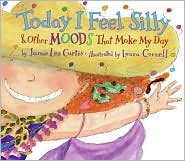 From Publishers Weekly:
Fans of
Tell Me Again About the Night I Was Born
and
When I Was Little
may be disappointed in this third offering from the talented duo, which looks at the wide range of human emotions. A dynamic girl describes a different "feeling" per day--13 in all--and the ways in which each manifests itself ("Today I feel silly./ Mom says it's the heat./ I put rouge on the cat/ and gloves on my feet").
Curtis relays her upbeat message ("Moods are just something that happen each day./ Whatever I'm feeling inside is okay!") in verse that is largely sprightly, but doesn't always reflect the changes in mood that occur during the course of the day the girl describes. For example, "Today I am quiet, my mom understands./ She gave me two ice creams and then we held hands./ We went to the movies and then had a bite./ I cried just a little and then felt all right," suggests a variety of feelings other than simply "quiet." Occasionally rhyming couplets take the facile route ("Today I'm discouraged and frustrated--see?/ I tried Rollerblading and fell on my knee"), and the repetitive, driving rhythm doesn't allow the words to soar the way the illustrations do.
The puckish artwork, still vintage Cornell, stars a curly red-headed girl whose near-neon surroundings (hot pink, lime green, fiery orange) change in intensity according to the emotion she expresses. A "mood wheel" (for readers to hone in their feelings) rounds out this amiable enough outing that, despite its missteps, may get readers talking about their own emotional swings.