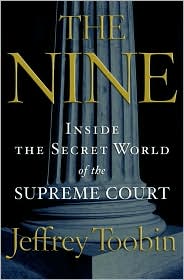 Synopsis:
Based on exclusive interviews with the Supreme Court Justices themselves and other insiders, The Nine is a timely and provocative "state of the union" about America's most elite legal institution. From Anthony Kennedy's self-importance, to Antonin Scalia's combativeness, to David Souter's eccentricity, and even Sandra Day O'Connor's fateful breach with President George W. Bush, this book offers a rare, personal look at how the individual style of each justice affects the way in which they wield their considerable power.
With the whip-smart analysis for which he is known, Toobin shows how–since Reagan–conservatives were long-thwarted in their attempts to control the Court by some of the very justices they pressured Presidents to appoint. That struggle ended with the recent appointments of John Roberts and Samuel Alito to the Court, and Toobin relays the behind-the-scenes drama in fascinating detail, as well as the ensuing 2007 Court term.
As the Court continues to rule on important issues that will frame the debates in the 2008 elections, it is essential for every American to better understand how the Court operates. And as a CNN senior legal analyst, New Yorker staff writer, and bestselling author, no one is more superbly qualified to bring clarity to a branch of government that has been shrouded in mystery, yet establishes laws that affect the lives of every citizen in America.