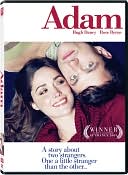 In this bittersweet romantic comedy, Adam (Hugh Dancy "The Jane Austen Book Club") is coping with the death of his father as many people with Aspberger's do: by sticking to a schedule. This includes following a safe, comfortable routine on a daily basis: waking up, eating the same breakfast, going to work, coming home from work, eating macaroni and cheese for dinner, and going to bed. Adam's regimented schedule is interrupted when Beth Buchwald (Rose Byrne "Knowing") moves into an apartment upstairs. Initially, Adam does what he does with all changes and ignores them, but circumstances conspire to make that impossible. For her part, Beth finds Adam both good looking and intriguing. They form a friendship that becomes more than a friendship, but being romantically involved with someone with Asperger's is not easy, and Beth must decide whether the emotional storms in their implausible and enigmatic relationship are worth the trouble.

Writer/director Max Mayer ("Better Living") manages to blend light comedy and romance with pathos, but his film remains grounded enough to avoid becoming a tear-jerker. He doesn't resort to stereotypes and short-cuts as he establishes Adam as a real person, not a misfit despite his social ineptness. Although Adam rambles on when a subject interests him, because he's unable to read cues that his listener might not be interested, still, he is not dumb or emotionally stunted and can even make jokes. Little occurences that seem like nothing to Beth can be major issues for Adam, and vice versa. In a real sense, they live in separate worlds, and it takes a major effort to breach the divide between them. There are times when Beth loses patience with Adam and instances in which his obstinance would drive anyone away. But the film sugar coats nothing, including the ending.
The tendency for an actor in a role like this is to overact. The result is often disastrous. British actor Hugh Dancy, adopting an American accent makes Adam believable and generally sympathetic. We may not fully understand all of the impulses that drive him, but we "get" the character. He's neither incomprehensible nor oversimplified. Meanwhile, Rose Byrne makes Beth a totally believable person with her own fears, hopes and dreams, although, due to the nature of the relationship, their chemistry is more complex than what one normally encounters in romantic comedies. The supporting roles are played by Peter Gallagher ("American Beauty") and Amy Irving ("Yentl") as Beth's parents and Frankie Faison ("White Chicks") as Adam's friend and mentor Harlan.

After a spate of contrived, formulaic romances, Adam seems more fresh and absorbing than it might have been, but what really makes this story about obstacles to human intimacy credible is its intelligent psychological wisdom.