Running Time:
1 hour, 30 minutes
Rating: R Restricted. Under 17 Requires Accompanying Adult.

Rating Explanation:
for sexuality/nudity, language, some violence and drug content.
Additional Info:
CAST:
Michael Jai White ... Black Dynamite
Arsenio Hall ... Tasty Freeze
Tommy Davidson ... Cream Corn
Kevin Chapman ... O'Leary
Richard Edson ... Dino
Darrel Heath ... Militant 2
Buddy Lewis ... Gunsmoke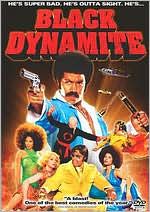 In 1970's drug-ridden Los Angeles, muscled ladies' man Black Dynamite (Michael Jai White "The Dark Knight") is a legend. When his brother is murdered in a drug deal gone wrong, he teams with his former CIA colleague O'Leary (Kevin Chapman "Mystic River") to solve the mystery. He gets help from his pals, the flaming Cream Corn (Tommy Davidson "Bamboozled") and tough-guy Bullhorn (Byron Minns "Double Bang"), but he also has time to romance the orphanage activist Gloria (Salli Richardson "I Am Legend"). The trail to the killer also leads him through the kung fu treachery of the fiendish Dr Wu (Roger Yuan "Syriana") and right to the door of Richard Nixon's White House.
Writer/director Scott Sanders ("Thick as Thieves") continually finds ingenious ways around his limited budget and hilariously captures the period with a production that's packed with gigantic afros, huge jewelry, pimp-mobiles and costumes all of which brilliantly capture the period. The grainy cinematography struggles amusingly to keep up with Dynamite's quick moves, and the film is packed with wobbly camerawork, groovy songs, a barrage of hilarious musical stings, and lots of 1970's split screen effects.
And then there's the unapologetically absurd dialog, which is delivered with straight-faced precision by the game cast. White is almost always shirtless, flexing his muscles and riotously growling his way through each scene, punctuating most lines with "Can you dig it?" Black Dynamite's way with the ladies is superbly well-played, generating terrific chemistry with all his women. And a wild array of supporting characters all manage to deliver big laughs.
Sadly the inventiveness seems to dry up about halfway through when the movie gets bogged down in its irrelevant plot and the same jokes come around for a second appearance so that by the end, you realize that the whole thing might have worked better as a comedy sketch on SNL. Still it's a lot of fun and you'll laugh or at least smile a lot.