Running Time:
1 hour, 26 minutes
Rating: R Restricted. Under 17 Requires Accompanying Adult.

Rating Explanation:
for crude and sexual content, language and drug use.
Additional Info:
Added DVD Features: Closed Caption; Deleted scenes; Gag reel; Mike O'Malley - Urban Clogger; Tweaking in the USA; Wedding Belles - Crashing a Lesbian Wedding ; Promotional Commercial.

CAST:
Ed Helms ... Tim Lippe
John C. Reilly ... Dean Ziegler
Anne Heche ... Joan Ostrowski-Fox
Isiah Whitlock Jr. ... Ronald Wilkes
Stephen Root ... Bill Krogstad
Alia Shawkat ... Bree
Rob Corddry ... Gary
Mike O'Malley ... Mike Pyle
Sigourney Weaver ... Macy Vanderhei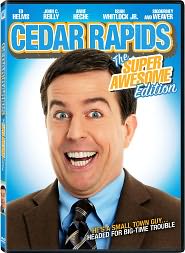 Tim Lippe (Ed Helms "The Hangover") was the guy people always thought would go places but then he just ... didn't. He's been living in the very sleepy Brown Valley, Wisconsin his whole life, still "pre-engaged" to his 7th grade teacher Millie Vanderhei (Sigourney Weaver "Alien"), while selling insurance to protect other people's dreams. But now, Tim's stalled life is about to get a kick-start because, for the first time in his 34 years, he's headed to a "major" metropolis - Cedar Rapids, Iowa - where he must try to save his company at a do-or-die insurance convention that, for him, will be entirely nonconventional.

From the minute he checks into his hotel with his ancient American Tourister and cummerbund money-belt, it's clear Tim has no idea how the modern world really works. He is soon smitten with seductive Nebraskan insurance agent Joan (Anne Heche "Wag the Dog") and awed by his experienced roommates, the straight-shooting Wilkes (Isiah Whitlock Jr. "She Hates Me") and the suspicious Zeigler (John C. Reilly "Chicago")
While there's nothing surprising about the plot, the characters are endearing and though not constantly funny, they're at least consistently funny. The movie also has the benefit of adult characters, rather than teenagers. Though they may act like crazy college students, in their quiet moments, these are grown-ups with grown-up problems (divorce, loneliness, unsatisfying marriages, etc.). Overall, Cedar Rapids, directed by Miguel Arteta ("Youth in Revolt") has enough laughs and charm to insure that you'll be happily entertained for nearly an hour and a half.