Running Time:
1 hour, 29 minutes
Rating: R Restricted. Under 17 Requires Accompanying Adult.

Rating Explanation:
for sequences of strong bloody horror violence and gore, graphic nudity, sexual content, language and some drug use.
Additional Info:
DVD Features: Filmmaker's Commentary; Deleted Scenes with Optional Commentary; 10 Behind-the-Scenes Featurettes; Deleted Storyboard Sequences.

CAST:
Richard Dreyfuss ... Matt Boyd
Ving Rhames ... Deputy Fallon
Elisabeth Shue ... Julie Forester
Christopher Lloyd ... Mr. Goodman
Eli Roth ... Wet T-Shirt Host
Jerry O'Connell ... Derrick Jones
Steven R. McQueen ... Jake Forester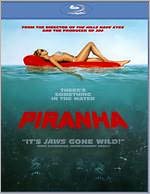 In this remake of

the 1978 horror-thriller,

an underground earthquake releases thousands of prehistoric piranha into Lake Victoria. The local sheriff Julie Forester (Elizabeth Shue "Leaving Las Vegas") tries in vain to persuade several thousand Spring Break revellers to quit their aquatic frolicking before they become fish food for the areas new razor-toothed residents. Meanwhile, the sheriff's son Jake (Steven R McQueen "The Vampire Diaries") has been lured onto a pleasure boat by slimeball porn director Derrick (Jerry O'Connell "Jerry McGuire") and busty, bikini-clad 'star' Danni (Kelly Brook "Deuce Bigalow: European Gigolo"). But there is also one nice girl - Kelly (Jessica Szohr "Gossip Girl "), who Jake falls for, in a big way, but who ends up licking tequila, salt and lime off the body and lips of Danni's co-star Crystal (Riley Steele "Bad Girls 2"). And that's when the fishy feeding frenzy really begins.


Director Alexandre Aja ("The Hills Have Eyes") serves up lots of tongue-in-cheek thrills, computer-enhanced gore and gratuitous nudity with such unabashed relish that you might even enjoy Piranha 3-D. There are also nice cameos from Richard Dreyfuss ("Jaws") and Eli Roth ("Inglourious Basterds") who completely loses his head after hosting a wet T-shirt contest.

But this is still little more than a lot of cheesy, eye-popping special effects, flayed bodies, naked breasts, vomit and a severed penis, all of which are all flung out of the screen and right into your lap. But if you enjoy that sort of thing, just be prepared.