Running Time:
1 Hour, 31 Minutes
Rating: R Restricted. Under 17 Requires Accompanying Adult.

Rating Explanation:
for sequences of grisly bloody violence and torture, and language.
Additional Info:
Extra DVD Features: Producers' Audio Commentary; Writer's Audio Commentary; Deleted and Extended Scenes; Music Videos; Theatrical Trailer; Closed Caption

CAST:
Tobin Bell ... Jigsaw / John
Costas Mandylor ... Hoffman
Betsy Russell ... Jill
Dean Armstrong ... Cale
Chad Donella ... Gibson
Gina Holden ... Joyce
Chester Bennington ... Evan
Rebecca Marshall ... Suzanne
Naomi Snieckus ... Nina
Sean Patrick Flanery ... Bobby
Cary Elwes ... Dr. Gordon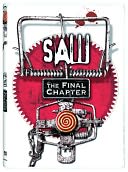 This is the 7th chapter in the horror series that takes us back to the beginning, wrapping up some loose ends and reminding us of how stupid the whole thing has become.

To sum up, You will recall that Jigsaw (Tobin Bell), the cancer-ridden sociopath with the God complex who tortures people until they appreciate life again; died. But that was maybe four movies ago. But, he lives on through the magic of flashbacks, and thanks to the tireless efforts of a police detective named Hoffman (Costas Mandylor), who continues to find Jigsaw victims. Jigsaw's widow, Jill (Betsy Russell), has told a detective named Gibson (Chad Donella) what she knows, which is plenty. In exchange for this, Hoffman will probably try to kill her.

Meanwhile, Hoffman teaches valuable lessons to one Bobby Dagen (Sean Patrick Flanery), who has gotten rich writing a book about his experience as a Jigsaw survivor. Bobby has become an inspiration to many, in particular his fellow survivors, who meet in support groups to talk about their run-ins with Jigsaw. Many of them say that they genuinely felt reborn after they escaped their traps.

If you've seen the last few films, you know the routine. Bobby has to get through a series of traps in which he or one of his loved ones could be killed or maimed, learning a new valuable life lesson with each step. He has only 60 minutes in which to accomplish all of this and save his wife (Gina Holden).

In this 7th film in the series, director Kevin Greutert seems to be just going through the motions, but this time he's compensated for the film's lack of ingenuity by having the guts splatter in three dimensions. The trouble is, a little of this goes a long way; and there's a lot.