Running Time:
1 hour, 52 minutes
Rating: PG-13 Parents Strongly Cautioned.

Rating Explanation:
for disturbing thematic material, violence, frightening images, and language including sexual references.
Additional Info:
CAST:
Anthony Hopkins ... Father Lucas
Colin O'Donoghue ... Michael
Alice Braga ... Angeline
Ciarán Hinds ... Father Xavier
Toby Jones ... Father Matthew
Rutger Hauer ... Istvan Kovak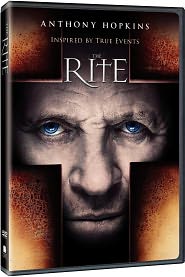 Michael Kovak (Colin O'Donoghue) completes seminary school and intends to resign, but a pushy priest (Toby Jones) coaxes him into traveling to Rome to train as an exorcist. There, Michael finds his natural skepticism getting in the way of his classes, so his instructor sends him to meet Father Lucas (Anthony Hopkins), a working exorcist with more unorthodox methods. He continues to doubt, second-guessing the things he sees, and a pretty, equally skeptical journalist (Alice Braga) realizing that she may have an interesting story, tries to get Michael to talk about his experiences. But more and more weird things begin to happen to Michael that are too close to home. And the filmmakers hope that you will begin to wonder if he will find his faith in time to save himself? But the question becomes - do you really care?

Director Mikael Håfström ("Derailed") manages to serve up at least one chillingly spooky sequence full of shadows and sounds, but with the main focus of The Rite on the bland young priest, whose character first doesn't believe, then he does, you'll find yourself losing interest rather quickly. The usually excellent Alice Braga has little to do as the girl reporter; however, there are a bunch of wonderful character actors like Rutger Hauer, Ciaran Hinds and Toby Jones , but they are almost completely wasted in this poorly plotted story, with its over-the-top climax and an almost complete lack of chills.