Running Time:
1 hour, 27 minutes
Rating: PG-13 Parents Strongly Cautioned.

Rating Explanation:
for intense sequences of violence and action, disturbing images and brief strong language.
Additional Info:
Added DVD Features: Deleted and Extended Scenes; The Bloody Frontier: Creating the World of Priest; Tools of the Trade: The Weapons and Vehicles; Filmmakers and Cast Commentary

CAST:
Paul Bettany ... Priest
Karl Urban ... Black Hat
Cam Gigandet ... Hicks
Maggie Q ... Priestess
Lily Collins ... Lucy Pace
Brad Dourif ... Salesman
Stephen Moyer ... Owen Pace
Christopher Plummer ... Monsignor Orelas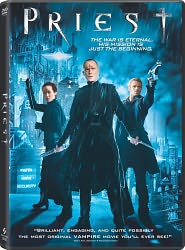 A priest, known as, yes, Priest (Paul Bettany "A Beautiful Mind"), is called on to rejoin the fight when his young niece (Lily Collins "The Blind Side"), living on a hardscrabble subsistence farm out on the frontier with her parents, is kidnapped. The Priest suspects vampires are to blame - and he's right. He defies the commands of the Church in order to undertake his niece's rescue, joining up with the town sheriff (Cam Gigandet "Burlesque") who loves her and refuses to let her be killed. Through their pursuit we learn more about the vampires, and they're nothing like those moody charmers of gothic tradition. Instead, they are repulsive and almost featureless, except for their fangs.

The abduction of the Priest's niece brings him face to face with an old friend from his past - who's not so friendly anymore - and reveals some long-held family secrets. He is also reacquainted with the Priestess (Maggie Q "Live Free or Die Hard"), a fellow warrior with whom he apparently shared an illicit romance. Before long the Priest, Priestess, and the sheriff are racing against time to stop a runaway train in order to save the city.

There's an elegant balance to the composition of most of the shots called by director Scott Stewart ("Legion"), and there's a visual consistency throughout that serves as a reminder of the material's origin as a graphic novel. The film's ending hints at a sequel, and Who knows? Priest II just might be something you'll to look forward to seeing.