Running Time:
1 hour, 40 minutes
Rating: PG Parental Guidance Suggested.

Rating Explanation:
for some mild sensuality, a scene of violence, and brief incidental language and smoking.
Additional Info:
DVD Features: Deleted & Extended Scenes; Making of The Young Victoria Featurette; The Real Queen Victoria Featurette; The Coronation Featurette; The Wedding Featurette; Lavish History: A Look at the Costumes and Locations.

CAST:
Emily Blunt ... Young Victoria
Rupert Friend ... Prince Albert
Paul Bettany ... Lord Melbourne
Miranda Richardson ... Duchess of Kent
Jim Broadbent ... King William
Thomas Kretschmann ... King Leopold
Mark Strong ... Sir John Conroy
Harriet Walter ... Queen Adelaide
Jeanette Hain ... Baroness Lehzen
Julian Glover ... Wellington
Michael Maloney ... Robert Peel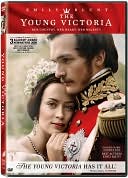 In England in 1837, Victoria (Emily Blunt "The Devil Wears Prada") was 17 years old and the object of a royal power struggle. Her uncle, King William (Jim Broadbent "Topsy Turvey"), is dying and Victoria is in line for the throne. Victoria is kept away from the court by her overbearing mother, the Duchess of Kent (Miranda Richardson "Sleepy Hollow"), and her ambitious advisor, Conroy (Mark Strong "Body of Lies"). Victoria hates them both. Her only friend is her
over-protective
governess, Lehzen (Jeanette Hain "The Reader").

Victoria's handsome cousin, Albert (Rupert Friend "Cheri") is invited to visit by her mother, although he's also the nephew of her Uncle, King Leopold of Belgium (Thomas Kretschmann "The Pianist"). It's obvious that Albert has been coached to win Victoria's hand, and at first she's annoyed as she has no intention of marrying. But when Albert returns home Victoria grants him permission to write to her. King Leopold is delighted and pushes Albert to woo her. But, Albert refuses because he knows she's not ready and he won't return to London until she invites him.

Meanwhile King William dies and Victoria is crowned Queen of England. Her first decree is to banish her mother and Conroy to a remote palace apartment. She embraces Lord Melbourne (Paul Bettany "A Beautiful Mind"), the charming Prime Minister, as her sole advisor. They become inseparable and although his motives are slightly self serving, he truly cares for her and wants her to succeed. Prince Albert returns to London to witness the coronation and the friendship between Victoria and Albert deepens. They spend happy hours together but it is obvious Victoria is under Melbourne's spell, so Albert returns to Germany.
The public loves their new Queen who's cheered as she rides through the streets, when Melbourne's party is defeated in the elections, his rival, Peel (Michael Maloney "Babel"), demands that Victoria replace her ladies in waiting, who are all supporters of Lord Melbourne, with the wives of his own allies. Victoria refuses. Peel resigns and the backlash is furious. The newspapers declare that Victoria is opposing the public's will, and people are outraged.

It is only now that
The Young Victoria
understands how much she needs Albert's support. Against Melbourne's wishes, she summons the young Prince back to England. This time Albert is determined not to be kept waiting. Seeing his new resolution and struck by how handsome and sincere he is, Victoria invites him to marry her. The spectacle of the royal wedding wins over the public. The handsome young Prince and Queen are cheered and all seems well in the Royal household, however tensions between Albert and Victoria start to emerge. Eventually, with the Dowager Queen Adelaide's (Harriet Walter "Atonement") encouragement, Victoria allows Albert to re-organize the palace staff. He does a great job - the household is more efficient than it's been in centuries and
Victoria and Albert rule together
for the rest of his life.



Despite an interesting story from our history books, director Jean-Marc Vallée (C.R.A.Z.Y.)

has nevertheless made a dramatically lifeless film even though
there are some

gorgeous locations, fabulous costumes and an excellent performance by Emily Blunt.