Running Time:
1 hour, 48 minutes
Rating: PG-13 Parents Strongly Cautioned.

Rating Explanation:
for some intense thematic material.
Additional Info:
Additional DVD Features: Closed Caption; Audio Commentary with Director Jon Amiel; "The Battle for Charles Darwin" Making-of Documentary; "Debating Darwin": 3 featurettes; "Digging Deeper Into Darwin": 7 featurettes; "Pollard on Film: Creation" featurette.

CAST:
Paul Bettany ... Charles Darwin
Jennifer Connelly ... Emma
Jeremy Northam ... Rev. Innes
Toby Jones ... Thomas Huxley
Jim Carter ... Parslow
Martha West ... Annie Darwin
Teresa Churcher ... Mrs. Davies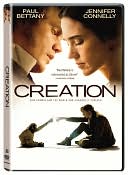 The is the powerful true-life story of the world-renowned scientist Charles Darwin (Paul Bettany "The Da Vinci Code") a dedicated family man struggling to accept his daughter's death who is torn between his love for his deeply religious wife (Jennifer Connelly ("A Beautiful Mind") and his own growing belief in a world where God has no place and he finds himself caught in a battle between faith and reason, love and truth.
Creation, directed by Jon Amiel ("Sommersby") is based upon "Annie's Box," the biography of Charles Darwin, by Randal Keynes, Darwin's great great grandson. It tells the story of how "The Origin of Species" Darwin's master-work, was researched and written and which sold out the first day its London publisher distributed it. It has never gone out of print.

Most of the story takes place in the small English village where the Dawin's lived; and tells the story of their passionate marriage which was torn apart by the most provocative idea in history – evolution. The film does not include Darwin's historic circumnavigation of the globe and ignores the fact that he dropped out of medical school because he found the lectures boring. It is more concerned with the relationship of Darwin and his wife and their ten-year-old daughter Annie (Martha West) than in the process by which Darwin developed his theory of evolution.
Both Paul Bettany and Jennifer Connelly, who are married to each other channel their real-life relationship into something both playful and darkly shaded on-screen. Opposite them, the excellent supporting cast includes Jeremy Northam ("Gosford Park") as their Reverend and Toby Jones ("The Painted Veil") as Darwin's friend Thomas Huxley.

This thought-provoking story is told in flashbacks, dreams, time-lapse sequences and beautifully re-enacted bedtime stories, capturing the idea that there must be balance in everything, nature, marriage and especially between science and religion. In the end, it's the emotions that linger with us, as the film makes a powerful point that telling and accepting the truth is often very difficult.