Running Time:
2 hours
Rating: PG-13 Parents Strongly Cautioned.

Rating Explanation:
for sexual content, drug and alcohol use and language.
Additional Info:
2 Dsc DVD Set Features:
Disc 1: Audio commentary with David Fincher; Audio commentary with Aaron Sorkin & cast.
Disc 2: How Did They Ever Make a Movie of Facebook? - a feature-length documentary in four parts; David Fincher and Jeff Cronenweth on the visuals; Angus Wall, Kirk Baxter and Ren Klyce on Post; Trent Reznor, Atticus Ross and David Fincher on the Score; Ruby Skye VIP room: multi-angle scene breakdown; In the Hall of the Mountain King: Reznor's first draft; Swarmatron.

CAST:
Jesse Eisenberg ... Mark Zuckerberg
Rooney Mara ... Erica Albright
Andrew Garfield ... Eduardo Saverin
Armie Hammer ... Cameron & Tyler Winklevoss
Bryan Barter ... Billy Olsen
Joseph Mazzello ... Dustin Moskovitz
Patrick Mapel ... Chris Hughes
Max Minghella ... Divya Narendra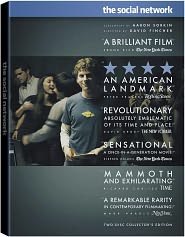 The film begins with a rapid-fire conversation between Mark Zuckerberg, (Jesse Eisenberg) a Harvard student and his friend Erica Albright (Rooney Mara) in which the socially stunted freshman destroys their nascent relationship with a series of insults delivered with astonishing speed. Naturally, Erica breaks up with him, and Mark lashes out at her with a vicious blog and then an even trickier invention, a website where all the Harvard girls are compared side-by-side, allowing anyone on campus to rank the hotness of their classmates and friends. Because it involve a small amount of sexism, as well as hacking, the site gets Mark into trouble, but it also gets the attention of wealthy twins Cameron and Tyler Winklevoss (both played by Armie Hammer) and their business partner Divya Narendra (Max Minghella), who are developing a site that sounds a lot like what Facebook would become. Mark meets with the guys but blows them off as he teams up with best pal Eduardo Saverin (Andrew Garfield) to develop his own, better idea: The Facebook. But, several years later, Mark is being sued.

The Social Network written by Aaron Sorkin ("A Few Good Men") and directed by David Fincher ("Fight Club") is a story about how ambition and envy destroyed a friendship almost by accident. It's the friendship between Mark and Eduardo that provides the movie's soul. The forces that drove apart the Facebook co-founders were pretty typical; different goals for the site, different plans for where to live, and Sean Parker (Justin Timberlake), an extremely persuasive funder with big ideas of his own.

There's no disputing that Mark Zuckerberg overstepped the bounds of common courtesy and ethics when building Facebook, but The Social Network is remarkably sympathetic to the character it acknowledges as merely a kid. Mark seems to be simply a programmer thrust awkwardly to the heights raather than the entrepreneur bent on glory that he's made out to be. There's no single moment that stands out, but the cumulative effect of all the skill and talent on display here is devastating by the end, as we're allowed to piece together for ourselves what this small story means for all of us. Just as Zuckerberg knew immediately at Facebook's inception that it would outlast the Internet's short attention span, The Social Network feels instantly iconic and important presenting a portrait of the generational hero no one asked for or needed, but who nevertheless changed the world by accident.