Running Time:
1 hour, 48 minutes
Rating: PG-13 Parents Strongly Cautioned.

Rating Explanation:
for some language.
Additional Info:
Additional DVD Features: Audio commentary with Valerie Plame-Wilson & Joe Wilson.

CAST:
Naomi Watts ... Valerie Plame
Sean Penn ... Joe Wilson
Ty Burrell ... Fred
Jessica Hecht ... Sue
Norbert Leo Butz ... Steve
Rebecca Rigg ... Lisa
Anand Tiwari ... Hafiz
Brooke Smith ... Diana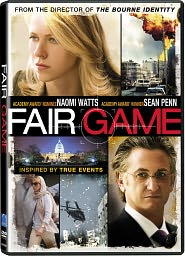 Based on the true story of Valerie Plame (Naomi Watts) who is working as a covert CIA operative in 2001. Her husband, Joseph Wilson (Sean Penn), is a former ambassador. After reports of a huge sale of yellow cake uranium, the CIA decides to send Wilson to Niger to investigate. Wilson determines that no such sale took place. But months later, the White House reports the opposite and uses the information to justify going to war in Iraq. Wilson responds by writing an op-ed piece in the New York Times. Unfortunately, in a subsequent news story, Plame's identity comes out thereby destroying her career. The timing couldn't be worse, since Plame was in the middle of trying to rescue a family from Iraq before it became too late. And now she and her family are receiving death threats.

In Fair Game, director Doug Liman ("The Bourne Identity") sticks fairly close to the real-life facts, and makes it dynamic and suspenseful as any fictional thriller. Best of all, he manages to add a welcome, moving human level to the actual drama taking place. It's heartbreaking to see Naomi Watts, as she helplessly watches while TV pundits cast judgment on her actions, and the strain on the couple's marriage is palpable. For a while both Plame and Wilson were more or less branded as traitors, but here we see them as two good people who tried to do their best in a terrible situation that plays out in the newspapers and on television.

It helps that there are two incredible actors in the lead roles. Naomi Watts gets one of the best roles of her career and she bears a striking resemblance to Valerie Plame. She imbues Plame with enough heart to make you really care about her and manages to strike a balance between playing a caring wife and mother as shown in the scenes at home, and a no-nonsense CIA agent. And Sean Penn, while totally cast to type here is totally effective as Joe Wilson. He beautifully portrays the anxiety of someone whose spouse is away on life and death missions. And there also a supporting cast of top-notch character actors, including Sam Sheppard as Plame's father, and Bruce McGill and Ty Burrell as Plame's CIA bosses.