Running Time:
2 hours, 1 minute
Rating: R Restricted. Under 17 Requires Accompanying Adult.

Rating Explanation:
for drug use and language throughout, some violence and sexuality.
Additional Info:
DVD Features: Bad Lieutenant: Port of Call New Orleans digital photography book; photos by Lena Herzog; The making of Bad Lieutenant: Port of Call New Orleans; Theatrical trailer; Alternate trailer; Previews.

CAST:
Nicolas Cage ... Terence McDonagh
Val Kilmer ... Stevie Pruit
Eva Mendes ... Frankie
Fairuza Balk ... Heidi
Jennifer Coolidge ... Genevieve
Brad Dourif ... Ned Schoenholtz
Michael Shannon ... Mundt
Shawn Hatosy ... Armand Benoit
Denzel Whitaker ... Daryl
Xzibit ... Big Fate
This is a remake of a little 1992 thriller that starred Harvey Keitel. In this new version Lt. Terence McDonaugh (Nicholas Cage "Leaving Las Vegas") is already on Vicodin for back pain, pursuing the case of five Senegalese illegals rubbed out in an obvious drug-world hit. The search for their supplier takes place across some of the scuzziest stretches of the post-Katrina New Orleans, and all signs point to an elusive operator named Big Fate (the rapper Alvin "Xzibit" Joiner "8 Mile").

But throughout, the mystery takes a backseat to the lieutenant's increasingly erratic behavior. Hunched over due to his back problems and customarily dressed in a slightly oversized suit with a large revolver stuck straight down the front of his pants, Terence is shaking down upscale clubgoers for their drugs and hitting on their dates in front of them, then rushing to his unlikely prostitute girlfriend Frankie (Eva Mendes "Training Day"), for a coke antidote to the heroin he's accidentally snorted. He also runs up a frightening debt with reckless sports betting. Given all his faults, which clearly includes corruption with a side of conspiracy when the situation calls for it, the thing that cements him into a position of authority and respect among his peers is the fact that he's a highly skilled detective. In fact he's the best his captain's got.

Director Werner Herzog ("Nosferatu") knows exactly what he's doing here, and the film's slimy, murky atmosphere is packed with pitch-black humor that oozes from the screen. And he has filled Bad Lieutenant: Port of Call New Orleans with an outstanding bunch of character actors including Val Kilmer ("Wonderland") as Terence's sidekick Stevie Pruit, Michael Shannon ("The Queen") and Shawn Hatosy ("The Cooler") as other members of the force, and Brad Dourif ("Mississippi Burning") as the sour bookie Ned Schoenholtz.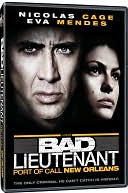 Highlighted by a gloomy jazz score by Mark Isham, the film takes on the same uproariously, seamy rhythm as the increasingly messy Terence, lurching from lackadaisical to suspicious to hyperactive and back making this offbeat police drama compelling viewing.