Running Time:
1 hour, 50 minutes
Rating: R Restricted. Under 17 Requires Accompanying Adult.

Rating Explanation:
for language and some disturbing violent content.
Additional Info:
DVD Features: Closed Caption; Feature audio commentary by director Jim Sheridan; Remade on the USA: How Brødre Become Brothers; Jim Shredan: Film and family.

CAST:
Jake Gyllenhaal ... Tommy Cahill
Natalie Portman ... Grace Cahill
Tobey Maguire ... Capt. Sam Cahill
Clifton Collins Jr. ... Major Cavazos
Bailee Madison ... Isabelle Cahill
Sam Shepard ... Hank Cahill
Mare Winningham ... Elsie Cahill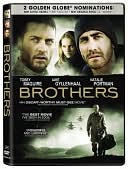 Sam Cahill (Tobey Maguire "Spider Man") is a responsible
Marine captain
who's married to his high school sweetheart, Grace (Natalie Portman "The Other Boleyn Girl"), and they have two bright, happy children: Isabelle (Bailee Madison) and Maggie (Taylor Geare). He is about to return to Afghanistan for another tour of duty. His younger brother Tommy (Jake Gyllenhaal "Zodiac") has just been released from prison, where he spent time for a bank robbery. He's the black sheep of the family - perpetually drunk and unfocused. Their father, Hank (Sam Shepard "The Notebook"), wishes Tommy were more like his brother.

Shortly after Sam returns to Afghanistan, tragedy strikes. Sam is involved in a helicopter crash and presumed dead. The news stuns Grace and Tommy and has the unintended consequence of bringing them closer together. Driven by the need to become a better person, Tommy "substitutes" for Sam, becoming a father-figure to the girls and a confidante for Grace. Sexual tension develops between Grace and Tommy, but it is unclear to either whether it's the result of genuine romantic feelings or shared grief. But Sam is not dead. He and one of his men, Joe Willis (Patrick Flueger), are captured by the Taliban, held in confinement for months, and tortured. When Sam is finally rescued, he is a changed man. Grace is overjoyed at the news of his imminent return, but she does not realize he's not the man she loved and married. The grim reality is that the Sam that everyone knew and loved is no more, most obvious in his inablility to reconnect with his children and the fact that he's convinced that Grace and Tommy are having an affair. He is now a broken and dangerous man.

Brothers is a faithful adaptation of Susanne Bier's 2004 Danish film, Brodre, and screenwriter David Benioff and director Jim Sheridan ("My Left Foot") manage to retain the themes and psychological nuances of the original while opening it up to appeal to contemporary English speaking audiences. The film is antiwar in a general sense, not because it disagrees with the underlying reasons for the war but because it presents the human toll that is so often unnoticed or unreported. The situation is heartbreaking but Sheridan does not flinch in depicting the events that break and remake Sam from the loving man he was into the cold shell who returns. Nevertheless, the film ends not in bleakness but on a note of hope. It is a rich, thoughtful, challenging motion picture, and one of 2009's best, with an absolutely stunning performance by Tobey McGuire.