Running Time:
1 hour, 49 minutes
Rating: PG-13 Parents Strongly Cautioned.

Rating Explanation:
or language including some sexual references, an intense accident scene and some sensuality.
Additional Info:
CAST:
Zac Efron ... Charlie St. Cloud
Charlie Tahan ... Sam St. Cloud
Amanda Crew ... Tess Carroll
Augustus Prew ... Alistair Wooley
Donal Logue ... Tink Weatherbee
Kim Basinger ... Claire St. Cloud
Ray Liotta ... Florio Ferrente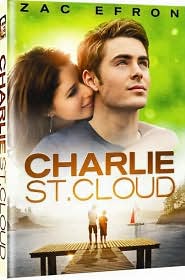 Accomplished sailor Charlie St. Cloud (Zac Efron "High School Musical") has the adoration of mother Claire (Kim Bassinger "L.A.Confidential), and little brother Sam (Charlie Tahan "Nights in Rodanthe"), as well as a college scholarship that will lead him far from his quaint Pacific Northwest hometown to Stamford University. But, Charlie's bright future is cut short when a tragedy strikes.

In an automobile accident Charlie's life is
miraculously saved by
Florio Ferrente (Ray Liotta "Goodfellas") a former EMT now dying of cancer. But his 11-year-old brother Sam
tragically dies
. U
nable to move forward and let go of his younger brother,
Charlie becomes a cemetery caretaker so that every day at sunset he can play catch with his little brother. Charlie can see other spirits, too, like his old high school buddy Sully (Dave Franco "Greenberg"), who joined the military after graduation and was killed in the line of duty. Most of them are just passing through on their way to the other side, but Sam has stuck around, and Charlie promises never to leave him.

That all potentially changes when his high-school classmate Tess (Amanda Crew "John Tucker Must Die") returns home unexpectedly, Charlie becomes torn between honoring a promise he made to his brother and moving forward with a new love. And, as he finds the courage to let go of the past for good, Charlie discovers the soul most worth saving might just be his own.

Directed by Burr Steers ("Igby Goes Down") and sumptuously photographed by Enrique Chediak ("Repo Man"), the characters and their surroundings in Charlie St. Cloud are always draped in golden hues and nostalgic halos, all the better to remind us of the angelic forces in Charlie's life. Despite being contrived and corny, this is still a well-made, handsomely shot little tearjerker.