Running Time:
1 Hour, 33 Minutes
Rating: R Restricted. Under 17 Requires Accompanying Adult.

Rating Explanation:
for language and some disturbing violent content/bloody images.
Additional Info:
Additional DVD Features: Closed Caption; Feature commentary by director/co-screenwriter Danny Boyle, producer Christian Colson and co-screenwriter Simon Beaufoy; Deleted scenes.

CAST:
James Franco ... Aron Ralston
Kate Mara ... Kristi
Amber Tamblyn ... Megan
Sean A. Bott ... Aron's Friend
Koleman Stinger ... Aron Age 5
Treat Williams ... Aron's Dad
John Lawrence ... Brion
Kate Burton ... Aron's Mom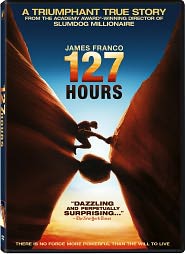 Aron Ralston (James Franco "Spider Man") is a geek with an obsession. An engineer by profession, Aron dreams of making his living as guide and when we first see him, heís packing up for a weekend alone, hiking the remote canyons he loves. Heís confident in his abilities, perhaps with good reason, and so he doesnít bother to tell anyone where heís going. On his way he meets two pretty hikers (Kate Mara and Amber Tamblyn). They invite him to a party, but he doesn't go.

Before long he ends up pinned beneath a rock that he can not move. Stuck there all alone for nearly a week, Aron will have plenty of time to think of everything he did wrong. The Swiss Army knife he failed to pack, the Gatorade bottle he left in his truck, the phone call from his mom he didnít answer as he threw everything in his bag and took off. Eventually he has a choice to make. By the time he makes it, itís almost not a choice, just a final desperate act to survive at any cost.

Most of 127 Hours, which is brilliantly directed by Danny Boyle (Slumdog Millionaire"), is spent with Aron trapped beneath the rock. With no one to talk to, nothing to do but sit and struggle and despair but he never panics; heís too smart for that. That doesnít mean that he has a way out. James Franco, with his steely-eyed determination is amazing, just sitting in that one spot, fantasizing about the choices heís made and the people he loves. He does what must be done in order to survive, and thatís enough. Finally, after heís finished the grisly, horrifying work of freeing himself, Aron stumbles back to survey what heís done and for a moment, just a moment, he smiles. Itís a fabulous performance in a movie you absolutely must see once, but youíll never want to watch again.