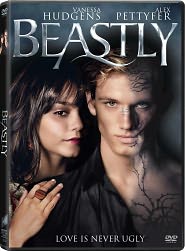 I
n this hyper-modern retelling of the classic "Beauty and the Beast,"
Kyle Kingston (
Alex Pettyfer
"I Am Number 4") is popular, wealthy, and handsome, but he also has a wicked cruel streak. He is undaunted by the competition as he runs for class green initiative president, because his news anchor father Rob Kingston (
Peter Krause
"We Don't Live Here Anymore"), has made him something of a celebrity at school. When Kyle jilts witchy classmate Kendra (
Mary-Kate Olsen
"The Wackness") for the last time, she casts a spell that leaves him heavily tattooed, scarred and bald. If he doesn't find someone to love him within one year, he will be forced to remain this way forever.
Kyle's father can't take the transformation and promptly moves him to a private house on the outskirts of the city. With only a maid (
Lisa Gay Hamilton
"The Soloist") and a blind tutor (
Neil Patrick Harris
"How I Met Your Mother") to care about him, Kyle soon grows antsy and becomes innocently infatuated with Lindy (
Vanessa Hudgens
"High School Musical"). She doesn't know he's the snotty boy from their old school, particularly when Kyle tells her his name is Hunter. She finds herself living under the same roof as Hunter, and when her life suddenly is in jeopardy, the two of them become closer. Lindy seems to be able to look beyond his disfigurement, but in order for her to love him enough to change him back, he's first going to have to make some alterations to his bitterness on the inside.
Written and directed by
Daniel Barnz
("Phoebe in Wonderland"),
Beastly
is basically a formulaic romantic teen drama, but with a total lack of sophistication. It probably won't be making anyone over the age of about thirteen either excited or entertained.