Rating: PG-13 Parents Strongly Cautioned.

Rating Explanation:
brief language and a drug reference
Additional Info:
DVD Features: Bonus videos; Stirring live performances by Sir Mack Rice - "Mustang Sally," Ann Peebles - "I Can't Stand the Rain," Sam Moore - "Hold On! I'm a Comin'," William Bell - "You Don't Miss Your Water," The Chi Lites featuring Eugene Record - "Oh Girl!" Rufus Thomas and Carla Thomas - "Night Time Is the Right Time" ; "What is Soul?" - Sam Moore, Carla Thomas (with Bobby Manuel), Wilson Pickett and Mary Wilson explain what makes soul music special; "The Rufus and Jaye Show" Bonus comedy clips from the legendary Rufus Thomas and Jaye Davis from their historic radio show in Memphis, Tennessee ; Commentary track from producer Jerry Wexler, Carla Thomas, Marvell Thomas, Sam Moore and Joyce Moore; Biography; Discography.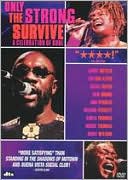 This wonderful documentary reveals the true story of how certain R&B legends managed to survive through the 30 years of evolution in the music industry since the glory days of R&B. Heavy metal, Rock and Roll and Rap all owe their very existence to the legends that are showcased in this film.

Chris Hegedus (Startup.com, The War Room) and D. A. Pennebaker (Don't Look Back, The War Room) using interviews and performance footage by such Motown legends as Isaac Hayes (Shaft), Sam Moore (Soul Man), Mary Wilson (of the Supremes), the Chi-Lites, Jerry Butler and Rufus Thomas have captured the raw energy and storytelling of an era in music history that shaped the path of rhythm and blues period which ended in the early '70's.