Running Time:
1 hour, 35 minutes
Rating: PG-13 Parents Strongly Cautioned.

Rating Explanation:
for some language including sex and drug references, and brief partial nudity.
Additional Info:
Featuring: Chris Rock, Maya Angelou, Vanessa Bell Calloway, Melyssa Ford, Meagan Good, Vijay Madupali Gupta, Andre Harrell, Ice-T, Sarah Jones, Scott Julion, Nia Long, Paul Mooney, Willie Morrow, Valerie Price, Salli Richardson, Salt-n-Pepa, Al Sharpton, Raven Symone, Tracie Thoms, T-Pain.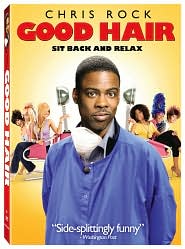 In this funny yet serious documentary, Chris Rock, arguably the funniest guy around, does both the narration and conducts the interviews with some laugh-out-loud joshing about the ways that African-American women deal with their hair. Good Hair is directed by Emmy Award winning writer Jeff Stilson ("The Chris Rock Show," Bill Maher's "Politically Incorrect," "The Late Show with David Letterman" and "The Osbournes").

Rock's interviews were mostly filmed in Atlanta, where he says with a smile that all decisions regarding black people are made, but he also travels to Dallas, Birmingham, New York, Greensboro, Beverly Hills, and all the way to Chenai, India for some of his material. Choosing some beautiful African-Americans actresses like Nia Long, Melyssa Ford and Tracie Thoms interspersed with some not so stunning men like Al Sharpton and Ice-T, Rock delves into the mysteries of fashion though not at all of the wardrobe kind, but simply what is found naturally and also added artificially to women's heads.

As he chats with the folks particularly the women in the beauty shops and the men at the tonsorial parlors, he cracks some jokes, most of which have probably been scripted, but they're still very funny. A principal joke centers on the idea that black women do not want their hair touched by men whom they know casually, as this is considered by them something more intimate than sex. He keeps the action moving, particularly at the climactic annual Bronner Bros Hair Battle, a contest in Atlanta where the winning stylist takes home a check for $20,000 as models and bands strut their stuff for a huge audience.