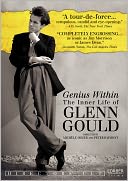 Glenn Gould was a hypochondriac. He wore mittens when he played, wore an overcoat on the beach in the summer and took anti-depressants and a cocktail of drugs that eventually changed his life. A sensation in his early concerts and recordings, he became the first rock star of the classical world. He scripted his life, created a persona and eventually became reclusive and paranoid. They said that even during his most prolific period, when recording in the studio, that he was a control freak, not with people, but with his work.
In 1957, on his first tour of Russia, they sold 1100 standing room tickets when he played in Leningrad. But he hated audiences, fame and celebrity. He always wrote the questions and answers to his interviews. Soon he became famous for cancelling concerts and often cancelled entire tours as well. Finally in 1963, at the age of 31 he stopped giving public performances altogether.
Gould didn't want to be part of any group and refused to hang out with the in crowd. "If you threw stones at him, he would break," a friend said. He embraced loneliness and damaged his health perfecting his art. He fitted no category and obeyed no rules. Between 1968 and 1972, he lived in Toronto with the wife of Lukas Foss an American composer and her two children. But because he was so difficult to live with, she eventually went back to her husband. Ten years later, at the age of 50, he died.