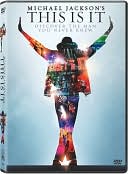 This unique film in high definition with state-of-the-art digital sound
presents a back-stage look at the creative process of an enigmatic, eccentric, influential and extremely talented artist. If there's any surprise, it is how good
Michael Jackson
actually looks, how well he sings and the natural ease with which he makes his fantastic dance moves. It has been superbly put together by
Kenny Ortega
("High School Musical")
the director who was working with Jackson on this production, and who edited it from more than one hundred hours of behind-the-scenes rehearsal footage.
Michael Jackson's is a well documented story that is hard to match. It's dramatic, it's bizarre, as well as controversial and tragic. He spent 44 of his 50 years on stage performing, and the show we watch being created was to be his live finale, a spectacular sold-out series of 50 concerts in Great Britain with the best back-up dancers and singers from all over the world. His voice still sounds fine with its distinctive vibrato, but it is the almost disjointed way he moves as he sings that makes watching it astonishing.
There is little that we learn from
the interviews with some of Jackson's closest friends and creative collaborators
, since most of the nearly two hours is spent on and off the stage with MJ as he is called. Rehearsal shots from different days have been spliced, edited and sometimes shown in split screen. There is no question that he was a perfectionist, nor that he knew exactly what he wanted. There are amusing instances that demonstrate this, like in an exchange with his keyboard player. It's very clear that Michael was always the star and treated with kid gloves by everyone, including director
Kenny Ortega
who makes us feel as though he is dealing with a porcelain treasure.
As you would imagine, the production is a no-expenses spared extravaganza with acrobats, footage of waterfalls, elephants and dolphins as well as fire and fireworks and
a 3D recreation of Thriller
.
This Is It
promised to be the event of the decade, and it is a fitting farewell to this unique artist, whose talent will undoubtedly outlive his controversy.