Running Time:
1 hour, 52 minutes
Rating: PG-13 Parents Strongly Cautioned.

Rating Explanation:
for sexual content and smoking.
Additional Info:
DVD Features: Commentary with director Rob Marshall and producer John DeLuca; 8 Featurettes, 3 Music videos.

CAST:
Daniel Day-Lewis ... Guido
Marion Cotillard ... Luisa Contini
PenÚlope Cruz ... Carla
Nicole Kidman ... Claudia
Judi Dench ... Lilli
Kate Hudson ... Stephanie
Sophia Loren ... Mamma
Fergie ... Saraghina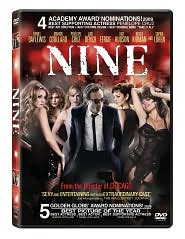 Based on Federico Fellini's 1963 classic 8½, this musical follows Guido Contini (Daniel Day-Lewis), a star director preparing his ninth movie after making a few flops. With shooting due to start in 10 days, Guido has yet to write a word. Instead he's haunted by his muses: his patient wife Luisa (Marion Cotillard), his needy mistress Carla (Penélope Cruz), his diva star Claudia (Nicole Kidman), his sardonic costume designer (Judi Dench), a sexy Vogue reporter (Kate Hudson), a woman from his past (Fergie) and his loving mother (Sophia Loren).

Director Rob Marshall as he did in Chicago puts the musical numbers on stage as dazzling, surrealistic, introspective flights of fantasy contrasted against the realistic scenes at Rome's Cinecitta studios and a seaside resort in Italy. And each actor gets to create two versions of their character: one purely dramatic, the other an eye-popping, song-and-dance production. This adds terrific insight into the characters and allows the cast to really shine. And while the songs by Maury Yeston aren't showstoppers, they're at least performed with passion. All of the actors have solos, but Marion Cotillard has the two best numbers, including a raucous and bitter striptease, and also has the film's most complex character, but there are many other memorable moments including Kate Hudson's go-go catwalk scene, which bursts with glittery energy, Fergie's "Be Italian", Judi Dench in a superb cabaret number "Follies Bergere" and Penélope Cruz who's fiercely sexy in "A Call from the Vatican."

But the true wonder is Daniel Day-Lewis, who gleefully represents both Marcello Mastroianni (who played the role in 8½) and Fellini himself and he sings as well. He throws himself into the role physically, taking us backstage to see both the creative process and the circus that surrounds him. And if the film as a whole feels cold and unmoving, without much of a message, it has spectacular musical production numbers that you won't want to miss.