Running Time:
1 hour, 37 minutes
Rating: PG-13 Parents Strongly Cautioned.

Rating Explanation:
for brief strong language.
Additional Info:
DVD Features: Extra Moves; Making The Music Videos; 8 Music Videos Including Flo Rida Feat. David Guetta "Club Can't Handle Me"

CAST:
Rick Malambri ... Luke
Sharni Vinson ... Natalie
Adam G. Sevani ... Moose
Alyson Stoner ... Camille
Keith Stallworth ... Jacob
Kendra Andrews ... Anala
Stephen Boss ... Jason
Joe Slaughter) ... Julien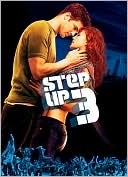 In this third hip-hop dance contest film in the series, Luke (Rick Malambri) runs a nightclub and dance studio out of a Brooklyn warehouse that he inherited from his parents. Despite the fact that the club is packed every night, he's behind on his mortgage payments and really needs to win the upcoming World Jam to save his crew's home. So he challenges his dance team, the Pirates, to go for it against their arch-rival competitors. New members of his team include Natalie (Sharni Vinson), who gets involved in a romance with Luke, and Moose (Adam Sevani), who neglects his college studies and his best gal Camille (Alyson Stoner) to dance in secret.

The only hold-over from the first film Step Up is Alyson Stoner, and from the second film Step Up 2 the Streets is Adam Sevani. But there are also a couple of surprise cameos as well. Otherwise, director Jon Chu ("Step Up 2: The Streets") has made a straightforward sports-type movie with a win-or-die competition, plus a couple of formulaic romantic comedy subplots and a rather pointlessly evil villain (Joe Slaughter), who has a nefarious connection to one of Luke's dancers.

But happily in Step Up 3 the outrageously elaborate dance-offs and montage sequences have been choreographed for maximum 3-D effectiveness using water, lights and any other gimmicks they could come up with, but it is all done with such a hectic energy that the dance sequences are truly exhilarating. They're so good, in fact, that you'll probably be able to overlook some of the clunky dialog, which the actors struggle to deliver. But if their performances are often almost comically stiff, their dance moves are totally awe inspiring.