Running Time:
1 hour, 40 minutes
Rating: PG-13 Parents Strongly Cautioned.

Rating Explanation:
for sexual content including several suggestive dance routines, partial nudity, language and some thematic material.
Additional Info:
Additional DVD Features: 6 Entire Song Performances; Featuring Christina Aguilera, Kristen Bell and the Dancers!; Alternate Opening; Blooper Reel; Director's Commentary.

CAST:
Christina Aguilera ... Ali
Cher ... Tess
Cam Gigandet ... Jack
Kristen Bell ... Nikki
Stanley Tucci ... Sean
Alan Cumming ... Alexis
Eric Dane ... Marcus
Julianne Hough ... Georgia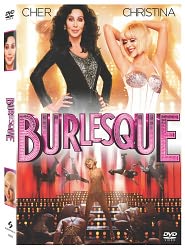 Ali (Christina Aguilera) is a wide-eyed small-town girl with a big voice who escapes hardship and an uncertain future to follow her dreams to LA. After stumbling upon The Burlesque Lounge, a majestic but ailing theater that is home to an impressive musical revue, Ali lands a job as a cocktail waitress from Tess (Cher), the club's proprietor and headliner. The Burlesque Lounge's outrageous costumes and bold choreography enrapture the young ingenue, who vows to perform there one day.

Soon enough, Ali builds a friendship with a featured dancer (Julianne Hough), finds an enemy in a troubled, jealous performer (Kristen Bell), and garners the affection of Jack (Cam Gigandet), a bartender and fellow musician, with the help of a sharp-witted stage manager (Stanley Tucci) and gender-bending host (Alan Cumming). But with the club teetering on bankruptcy, Tess' frantic ex-husband (Peter Gallagher) pleads with her to sell the club.

Meanwhile,

Ali is making her way from working in the bar to appearing on the stage. And before long, her spectacular voice restores The Burlesque Lounge to its former glory, though not before a charismatic

Real Estate Developer (Eric Dane) arrives with an enticing proposal.


Cher only has a couple of musical numbers, but
the showgirls bend like flexi-straws and wiggle their fannies,
and
Stanley Tucci
a
s the witty, gay stage manager,
recycling his limp-wristed shtick from The Devil Wears Prada still manages to l
ight up the screen every time he appears.
Burlesque,
directed by first-time feature writer-director Steven Antin
is a corny, but entertaining toe-tapping and flamboyantly entertaining musical, the old-fashioned kind that they don't make very often anymore.