Running Time:
1 hour, 53 minutes
Rating: PG-13 Parents Strongly Cautioned.

Rating Explanation:
for some teen drug and alcohol use, sexual content, violence and language.
Additional Info:
CAST:
Kenny Wormald ... Ren
Julianne Hough ... Ariel Moore
Dennis Quaid ... Rev. Moore
Andie MacDowell ... Vi Moore
Miles Teller ... Willard
Ray McKinnon ... Wes Warnicker
Patrick John Flueger ... Chuck Cranston
Kim Dickens ... Lulu
Ziah Colon ... Rusty
Ser'Darius Blain ... Woody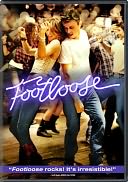 This is a a remake of the 1984 film that made Kevin Bacon a star. In this slightly updated version, Ren McCormack (Kenny Wormald) is a Boston high-school senior who's mom is dying of leukemia, after his father takes off, leaving his dying wife and son. Ren is informally adopted by his aunt (Kim Dickens) and uncle (Ray McKinnon), while he finishes high school. But suddenly his uncle gets transferred to the provincial southern town of Bomont, Georgia, population 19,000.

Ren is instantly seen as trouble after getting pulled over for listening to his music too loudly. Ren can scarcely believe the town's close-vested, backwards ways, and he's not the only one: classmate Ariel (Julianne Hough), the reverend's daughter, has had just about enough of her father's strict rules and insistence on living in the past. Currently seeing bad boy race car driver Chuck Cranston (Patrick John Flueger) more out of rebellion than love, Ariel catches Ren's eye. With the help of friends Willard (Miles Teller), a dance-challenged hick and Rusty (Ziah Colon), they set out to open Bomont's eyes to the positive aspects of dancing and the dangers of going through life with narrow-minded views of the world. And what else are these teens to do: spend Saturday nights in the library or sitting in front a computer when dancing provides far more exercise and the option to interact with others their age? No way.

Needless to say the obvious plot gets in the way of some terrific dancing, from the line steps popular in Southern small towns on Saturday night to break-dancing where the white guys effectively challenge the African-Americans. Co-written and directed by Craig Brewer ("Hustle and Flow") who caters to the crowd that will never get over the pleasure of watching cars, trucks and buses crash, particularly when at least one of the vehicles is on fire. Footloose feels as energetic as it was twenty-seven years ago, not always subtle and not always able to evade its cornball trappings, but this generational update of what was always pleasant. works as a breezy entertainment that most 21st Century audiences will enjoy.