Running Time:
1 hour, 55 minutes
Rating: PG-13 Parents Strongly Cautioned.

Rating Explanation:
for thematic material and smoking.
Additional Info:
DVD Features: Deleted scenes with optional commentary by director Philippe Claudel.

CAST:
Kristin Scott Thomas ... Juliette
Elsa Zylberstein ... Léa
Serge Hazanavicius ... Luc
Laurent Grévill ... Michel
Frédéric Pierrot ... Capitaine Fauré
Claire Johnston ... Juliette's mother
Catherine Hosmalin ... La conseillère
Jean-Claude Arnaud ... Papy Paul Olivier Cruveiller ... Gérard Lise Ségur ... P'tit Lys
The film begins when Juliette (Kristin Scott-Thomas "The English Patient") comes to live with her much younger sister Lea (Elsa Zylberstein "Jefferson in Paris") and her family, which includes Lea's husband Luc (Serge Hazanavicius), two adopted Vietnamese daughters, and a father-in-law (Jean-Claud Arnaud) left mute by a stroke. We learn Juliette's story slowly, as she keeps the details of her 15 years in prison to herself. It turns out she was convicted of murdering her six-year-old son
, due to the testimony of her ex-husband
. Lea, who was only a teenager when her sister went to jail, is desperate to reunite with her sister, but Juliette seems physically incapable of feeling much of anything.

Juliette drifts through visits with her parole officer, and develops a friendship with a local police detective (Frederic Pierrot). She accompanies her sister's family to various events, eventually meeting Lea's colleague Michel (Laurent Grevill) who shows some interest in Juliette, who isn't at all prepared for a serious relationship. But
her frozen feelings slowly begin to thaw.
Kristin Scott-Thomas is practically silent throughout the film,
conveying every ounce of her heartbreak, loneliness and anger with stiff arms and panicked eyes.
When Juliette and Lea visit their mother, ill with dementia in a nursing home, Juliette is speechless when her mother greets her, as if she was never in jail at all, and she is totally unable to return her mother's embrace. As Lea, Elsa Zylberstein portrays her character well beyond the normal enthusiasm of a younger sister. Trying too hard to reincorporate her sister into her world, while simultaneously resenting Juliette for the disintegration of her family, Lea's sadness shines through her bright demeanor, climaxing in the movie's final scene, the sole confrontation between the sisters.


First time writer/director
Philippe Claudel
has created a
powerful,
heartfelt
,
even funny movie,
highlighted by
the outstanding
performances of both Kristin Scott Thomas and Elsa Zylberstein.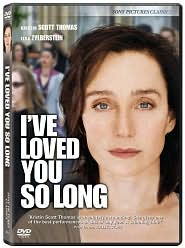 x