Running Time:
2 hours, 7 minutes
Rating: R Restricted. Under 17 Requires Accompanying Adult.

Rating Explanation:
for a rape scene, violent images, some graphic nudity and language.
Additional Info:
DVD Features: Join writer/director Juan José Campanella behind the scenes and on set to see how he casted and created this unique film.

CAST:
Ricardo Darín ... Esposito
Soledad Villamil ... Irene Menéndez Hastings
Pablo Rago ... Ricardo Morales
Javier Godino ... Isidoro Gómez
Guillermo Francella ... Sandoval
José Luis Gioia ... Inspector Báez
Carla Quevedo ... Liliana Coloto
Rudy Romano ... Ordóñez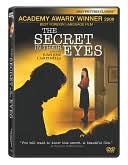 This psychological thriller from Argentina takes p
lace in two eras: It starts

in 1999 and flashes back to June 1974 when a federal justice agent, Benjamin Espósito (Ricardo Darín), becomes entangled in the investigation of the brutal rape and murder of a young woman inside her house in a Buenos Aires neighborhood. Her widowed husband, bank employee Ricardo Morales (Pablo Rago), is shocked by the news; Espósito vows to find the killer and bring him to justice. He's aided by his alcoholic assistent Pablo Sandoval (Guillermo Francella) and an upper class lawyer Irene Menéndez-Hastings (Soledad Villamil), who has taken over as department head. But when Espósito's partner Romano (Mariano Argento) pins the murder on two immigrant workers Espósito is enraged and attacks him in a fury.

The investigation continues as Espósito finds

some old pictures provided by Morales, and spot

s a young man who's suspiciously

looking

at the murder victim Their good detective work identifies him as Isidoro Gómez (Javier Godino).

Against the direct order of their boss.
Espósito and Sandoval set out to find
Gómez, whose eyes seemed to
Espósito that proves that he is the killer
.
After an exciting chase in a crowded soccer stadium,
Gomez is captured, followed by
an
extraordinary suspect-interview by the always supportive Irene who puts her power as a woman and her dignity on the line which provokes an admission from
Gómez.
Espósito informs Morales of the news of the killer's capture, and receives a hug of gratitude from the widower. Both men agree that life in prison will finally set things right.
But just when it seems as though the case is closed, corruption rears its ugly head. T
hings don't always work out as you'd expect, especially in Argentina.


Writer-director Juan Jose Campanella ("Moon of Avellaneda") has made a tense, compelling, and ultimately touching thriller. It won a well deserved Academy Award as Best Foreign Film of 2009.

It is in Spanish w/English subtitles.