Running Time:
2 hours, 28 minutes
Rating: R Restricted. Under 17 Requires Accompanying Adult.

Rating Explanation:
for disturbing images, language, some sexual content, nudity and drug use.
Additional Info:
CAST:
Javier Bardem ... Uxbal
Maricel Álvarez ... Marambra
Hanaa Bouchaib ... Ana
Guillermo Estrella ... Mateo
Eduard Fernández ... Tito
Cheikh Ndiaye ... Ekweme
Diaryatou Daff ... Ige
Uxbal (Javier Bardem) is a kind of mafia agent on the streets of Barcelona, working for a pair of Chinese bosses. He imports cheap Chinese labor who make and sell knock-off handbags and also do construction work. Uxbal has no problem with the way the workers are treated, despite the fact that they're locked into a large room at night and awakened with shouts at 6.30 each morning. He arranges for his Senegalese immigrants to sell their bags on the street though he must be careful that they do not get involved in drug trafficking. But, he also pays off the police to look the other way. He also has a gift: he can conjure up spirits of the dead, making additional money in funeral homes where he discusses mourner's loved ones' wishes.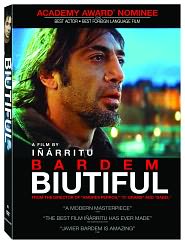 Though often seen with piles of money,
Uxbal
is not a particularly happy man. His greatest joy is his children: the cute seven-year-old Mateo who has an older sister. His estranged wife, Marambra (Maricel Álvarez) is a bipolar drug addict who drinks and sleeps with Uxbal's brother, Tito (Eduard Fernández). Then suddenly,
Uxbal
is diagnosed with metastatic prostate cancer and given only two months to live. His spiritual adviser warns him that "chemotherapy is poison," and urges him to make final arrangements.

As days go by, Uxbal's face becomes sweaty, his beard scruffier, his mouth turns increasingly downward as he contemplates his demise. He is determined to make amends for his criminal life that has caused pain to some, though he is adored throughout by his two kids. Rarely raising his voice, he changes what he can, providing great help to a Senegalese woman, Ige (Diaryatou Daff) who is carrying a baby, whose husband, Ekweme (Cheikh Nadiaye), returns to his native land urging his wife to remain in Spain despite her view that as an African she does "not belong."

Biutiful, directed Alejandro González Iñárritu ("Babel) is a
touchingly observed
look at the sad lives of migrant workers, generally exploited and ever-fearful of arrest, but its is basically an intense character study of a man in deep decline. Javier Bardem has already earned a Best Actor award at the Cannes Film Festival; but that surely won't be his last.