Running Time:
1 hour, 13 minutes
Rating: G General Audiences.

Additional Info:
featuring the voices of :
John Cleese ... narrator
Jim Cummings ... Tigger
Craig Ferguson ... Owl
Tom ... Kenny Rabbit
Bud Luckey ... Eeyore
Travis Oates ... Piglet
Jack Boulter ... Robin
Kristen Anderson-Lopez ... Kanga
Wyatt Hall ... Roo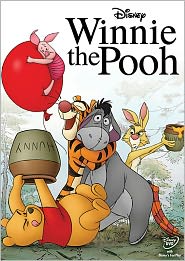 It all begins when the narrator (John Cleese) informs us, something important is going to happen today in the Hundred Acre Wood. But for Pooh (Jim Cummings), morning dawns with a tummy rumble. In search of honey, he discovers a note from Christopher Robin (Jack Boulter) that is misunderstood by everyone. Owl (Craig Ferguson) makes up a tale about a menacing creature called the Backson, which Rabbit (Tom Kenny) devises a plan to catch. Everyone pitches in, including goofy Tigger (Jim Cummings), timid Piglet (Travis Oates), helpful Kanga and Roo (Kristen Anderson-Lopez and Wyatt Hall) and gloomy Eeyore (Bud Luckey), whose missing tail sparked the whole panic.
Despite a rather tacked-on moral about putting your friends' needs before your own, there isn't much to this cheerful little film that's been deliberately made for very young viewers by directors Stephen Anderson and Don Hall. The plot meanders with lively diversions, and the characters are cheeky and sometimes very funny. It's endearing but never particularly interesting. And the songs (including a couple sung by Zooey Deschanel) are mostly repetitive and obvious.
Nevertheless, the animators have done a superb job retaining the look of the classic cartoons while adding some gorgeous touches with their sharp attention to detail, lushly hand-painted backgrounds and some eye-catching digital sequences. In other words, it's extremely old-fashioned in its approach, yet it still manages to look fresh.