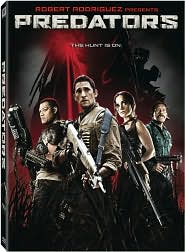 This action-packed sequel to
John McTiernan
's 1987 original starts with an exciting opening scene, which features its cast of characters waking up to a freefall nose dive from the heavens, effectively introducing a motley crew of mercenaries, warriors, and mad men; all of them killers who find themselves on a mysterious alien planet, which like last year's
Avatar
is filled with picturesque vegetation and animal life.
Leading the pack is Royce (Adrien Brody "The Pianist"), the unlikeliest of action heroes. Joining him on what turns out to be an alien planet, are the U.N. of elite killers, including an Israeli sniper (Alice Braga "I Am Legend"), a Russian Special forces fighter (Oleg Taktarov "Righteous Kill"), a soldier from Sierra Leone (Mahershalalhashbaz Ali "The Curious Case of Benjamin Button"), a Mexican drug enforcer (Danny Trejo "Necessary Evil"), and an American death row killer (Walton Goggins "Miracle at St. Anna").
The only unarmed new arrival is a suspiciously clean-cut doctor (Topher Grace "Win a Date with Tad Hamilton!") who is not as he appears. Laurence Fishburne ("The Matrix") makes a cameo appearance as an earlier visitor to the planet who claims to have survived for "10 seasons" in this lush land of poisonous flowers and waterfalls, where the sun doesn't seem to move across the sky. Much like its characters, Predators directed by Antal Nimród ("Armored") takes itself very seriously, as its rag tag group of grunts openly wonder if their bad deeds have sent them to Hell or someplace worse, as their need to survive far out ways any inkling of moral fibre.
There is an attention to detail to its look and a respect to its back story, with much homage's peppered throughout, the most obvious the re-introduction of the original
Predator
score, and a welcome return of the famed Gatling gun affectionately known as "Old Painless". Using a script originally written by
Robert Rodriguez
("Desperado"), credited writers
Alek Litvak
and
Michael Finch
bring some colorful dialogue to the series, while director
Antal Nimród
injects some welcome edge, especially in the picture's first half.