Running Time:
2 hours, 28 minutes
Rating: PG-13 Parents Strongly Cautioned.

Rating Explanation:
for sequences of violence and action throughout.
Additional Info:
DVD Features: The Inception of Inception - Christopher Nolan shapes his unusual concepts for the movie; The Japanese castle: the dream is collapsing - creating and destroying the castle sets; Constructing paradoxical architecture - designing the staircase to nowhere; The freight train.

CAST:
Leonardo DiCaprio ... Cobb
Joseph Gordon-Levitt ... Arthur
Ellen Page ... Ariadne
Tom Hardy ... Eames
Ken Watanabe ... Saito
Dileep Rao ... Yusuf
Cillian Murphy ... Robert Fischer
Tom Berenger ... Browning
Marion Cotillard ... Mal
Michael Caine ... Miles
Pete Postlethwaite ... Maurice Fischer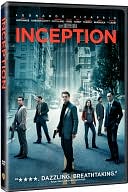 Inception is a heist movie, about a team of operatives led by
Cobb (Leonardo DiCaprio "The Aviator"),
the absolute best in the dangerous art of extraction, stealing valuable secrets from deep within peoples' minds, when they are asleep and their minds are at their most vulnerable. Now Cobb is being offered a chance to do one last job, one that could give him his life back, but only if he can accomplish the impossible - inception,
planting an idea deep within the subconscious mind of another person
.

For this mission, Japanese business mogul Saito (Ken Watanabe
"The Last Samurai")
has assigned Cobb the perilous task of planting an idea into the subconscious of Robert Fisher
(Cillian Murphy "Red Eye"),
the son
of a rival CEO - Maurice Fischer (Pete Postlethwaite "The Constant Gardener"), and make him believe that he thought of it himself.

To accomplish this, Cobb assembles a first rate team, choosing
Arthur (Joseph Gordon-Levitt
"G.I. Joe"
)
, his young stuffed shirt second-in-command,
Ariadne (Ellen Page "Juno")
, a budding architectural prodigy,
Eames (Tom Hardy "RocknRolla"), a
wily thief, Yusuf (Dileep Rao "Avatar"), a
clever chemist, while
Saito himself tags along to observe the whole project. Cobb and his team don't just enter Fischer's dream, they guide him toward his darkest secrets and so far through several layers of consciousness that the risks become ever more dangerous. It's a difficult situation under the best of circumstances, but when immersed in dreams, his own or someone else's, Cobb is beset by projections of his late wife Mal (Marion Cotillard "La Vie en Rose"), who keeps showing up to ruin his mission while hints of Edith Piaf singing haunts their scenes together.

Director Timothy Nolan ("Dark Knight") uses his penchant for polished, elegant visuals to create dream worlds that are unsettling in their perfectness. His screenplay, which he worked on for years, allows us sometimes to predict what's coming and other times ramping up the suspense so that we can't imagine how the team could possibly make it out alive.

And while the many pleasures of Inception come almost entirely from visual spectacles, mind-blowing ideas or impressive fight sequences, Leonardo DiCaprio provides additional sizzle with yet another great performance. The final portion of the film is almost nonstop action. but at the end it leaves you wondering what it might be like to be able to remember your own dreams in such glorious detail.