Le Me In,
based on a Swedish film which was adapted from the novel by
John Ajvide Lindqvist
, has been set Los Alamos, New Mexico in 1983. It's the story of a lonely, bullied little boy called Owen (
Kodi Smit-McPhee
"The Road"), who learns that Abby (
Chloe Grace Moretz
"Kiss-Ass"), the girl who moves into the apartment next to his, is actually a vampire, and much older, and stronger, than she looks. The centerpiece of the story is their friendship, or more properly adolescent romance, that slowly develops between the two of them.
There are only two problems. First, Abby's guardian
(Richard Jenkins
"The Visitor") is not so good at collecting the human blood she needs to survive, and there's a detective (
Elias Koteas
"Zodiac")
who's doggedly investigating a series of suspicious murders in the area.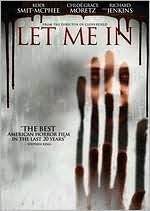 Director
Matt Reeves
("Cloverfield"), has masterfully adapted the film from the Swedish original, and he immediately establishes an uneasy, foreboding tone as an ambulance wends its way through a seriously dark, stormy and frozen New Mexican terrain. And although we probably could have lived without some of the glowing vampire eyes, and the religious overtones, he's added a terrifying car crash sequence that takes place entirely from inside the out-of-control vehicle.
But, key to this remake's ultimate success is the casting of the troubled young leads. Both
Kodi Smit-McPhee
and
Chloe Grace Moretz
possess the soulful depth and pre-adolescent vulnerability necessary to keep it compellingly real. And
Richard Jenkins
' melancholic demeanor is put to good use as Abby's protector, while
Elias Koteas
makes for a credible moral compass as the police officer attempting to find the culprit responsible for all those ritual murders.
Echoing the prevailing horrific/mournful vibe is
Michael Giacchino
's bone-chilling and achingly poignant score which also helps make this creepy little thriller far superior to the usual run of Hollywood horror movies.