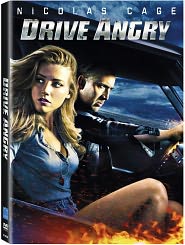 Nicholas Cage
headlines this high-octane thriller as Milton, a hard-case felon who breaks out of Hell to prevent the cult that murdered his daughter from sacrificing his infant granddaughter to Satan on the night of the full moon. With just three days to go before the ritual killing,
Milton crosses paths with knockout waitress Piper (
Amber Heard
), who steals her cheating ex-boyfriend's vintage Charger and joins him on his quest to save the Earth from the forces of darkness. With Piper's help and a mean set of wheels to keep them moving, they may have a shot at taking down diabolical cult leader Jonah King (
Billy Burke
) before he achieves his malevolent goal. But should Jonah get the opportunity to make his dark sacrifice, he will become the most powerful man alive and all of humanity will suffer.
Unfortunately for Milton, the cops are quickly closing in, and the Devil's determined minion, "The Accountant" (
William Fichtner
), will stop at nothing to drag him back down to Hell. With each passing minute, Milton's last shot at redemption is fading, and the fate of the entire world inches ever closer to infernal darkness.