Running Time:
1 hour, 42 minutes
Rating: PG-13 Parents Strongly Cautioned.

Rating Explanation:
for thematic material, violence, terror and frightening images, and brief strong language.
Additional Info:
Extra DVD Features: Horror 101: The Exclusive Seminar; On set with Insidious; Insidious entities.

CAST:
Patrick Wilson ... Josh Lambert
Rose Byrne ... Renai Lambert
Ty Simpkins ... Dalton Lambert
Lin Shaye ... Elise Rainier
Leigh Whannell ... Specs
Angus Sampson ... Tucker
Andrew Astor ... Foster Lambert
Barbara Hershey ... Lorraine Lambert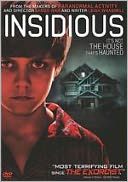 It all begins when the Lambert family moves into a spooky new house. Dad Josh (Patrick Wilson) is a high school teacher, while stay-at-home mom Renai (Rose Byrne) is an aspiring songwriter. They have three kids, two young boys and a baby girl, and they seem to be a happy family.

That all changes when little Dylan (Ty Simpkins) falls off a ladder and bumps his head while investigating the attic. The next morning, he doesn't wake up, and the doctor tells his parents that he's in an inexplicable coma. Eventually the child is brought home in his comatose state, and suddenly the house begins to be troubled with what seems to be poltergeist activity - loud noises, creaking doors, and finally strange and unsettling apparitions. These become so unnerving that Josh begins spending his evenings at school, leaving Renai alone to cope.

At Renai's insistence the family moves, but the mysterious apparitions seem to have followed them to their new home. To help them with their problems, Josh's mother Lorraine (Barbara Hershey) introduces her son and daughter-in-law to a medium, Elise (Lin Shaye), who sends two actual ghostbusters (Angus Sampson and Leigh Whannell) to check out the house with their homemade equipment. Then Lorraine arrives on the scene herself, prepared to handle the situation.

So far, so good. Up to this point Insidious, directed by James Wan ("Saw") is an effective blend of terrors tinged with a wry sense of humor. With a couple of morbid twists at the end that don't necessarily explain everything, this is still a shivery thriller that should keep you on the edge of, or under your seat a good deal of the time.