Running Time:
2 hours, 42 minutes
Rating: PG-13 Parents Strongly Cautioned.

Rating Explanation:
for intense epic battle sequences and warfare, sensuality, language and some smoking.
Additional Info:
3 DVD Set Features: Disc 1 AVATAR
Disc 2: Capturing AVATAR: An in-depth feature length documentary covering the filmmaker's journey including all-new interviews with James Cameron, Jon Landau, cast and crew; Deleted Scenes: Over 45 minutes of never-before-seen deleted scenes and illustrative User's Guide for viewing the scenes with filmmaker explanation; Production Materials: Behind the scenes and making of Avatar materials; A Message From Pandora;
Disc 3: Pandora's Box: Go deeper into the filmmaking process with over 4 hours of Inside AVATAR materials and footage; Interactive Scene Deconstruction: Explore various stages of production through 3 different viewing modes; Production Featurettes: 17 featurettes covering the Performance Capture, Scoring, 3D fusion Camera, Stunts, and more; AVATAR Archives: Includes original scriptment, 300 page screenplay and extensive Pandorapedia; The Art of AVATAR with over 633 images and much more!; BD-Live Extras Portal: Crew Short: The Night Before Avatar and Raw Footage Production Elements

CAST:
Sam Worthington ... Jake Sully
Zoe Saldana ... Neytiri
Sigourney Weaver ... Dr. Augustine
Stephen Lang ... Col. Miles Quaritch
Michelle Rodriguez ... Trudy Chacon
Giovanni Ribisi ... Parker Selfridge
Joel Moore ... Norm Spellman
CCH Pounder ... Moat
Wes Studi ... Eytukan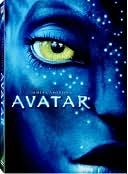 In the future, earth has been destroyed, and an anonymous corporation has set upon Pandora, a distant, but inhabited moon, to mine something called unobtanium. At the corporation headquarters, scientist Grace Augustine (Sigourney Weaver "Alien") has invented avatars fused with DNA from both humans and the
Na'vi
natives. While the company execs, led by weasel-faced Parker Selfridge (Giovanni Ribisi "Saving Private Ryan") want to obliterate the native cultures, Grace's unit is aiming for humanitarian outreach and cross-cultural understanding.

A paraplegic

ex-Marine,

Jake Sully (Sam Worthington "Terminator Salvation"

)
having lost use of his legs in combat
is brought to Grace's lab and he
immediately
clashes with her no-nonsense ways. Still, when Jake hears of Grace's project he agrees to cooperate and soon finds that life within his avatar gives him a chance to experience the world again. But the minute he's out in the Pandoran forest, he finds himself stranded, after a chase with a particularly nasty local creature.

Coming to his rescue is Neytiri (Zoe Saldana "The Terminal"), princess of the local Na'vi people, who has little patience for Jake and his arrogance, but she takes him home and the tribe is convinced to teach him their ways. As soon as he goes to sleep, however, he wakes up in his own body back in lab, where he shares details about the Na'vi tribe with Grace and her staff. But Selfridge, and Miles Quaritch (Stephen Lang "The Men Who Stare at Goats") are both determined to use this insider knowledge to overcome the Na'vi natives.

What is most breathtaking in Avatar, written and directed by James Cameron ("Titanic") is the gorgeous bioluminescent Pandoran forest, from the giant palm fronds to the packs of dog-weasel beasts to the massive Tree where the Na'vi make their home. It is all so magnificently crafted, so completely dazzling, that the line between CGI and reality simply disappears. There's never been anything like the look of
these alien creatures and f
or all the gaps in character motivation,
awful dialogue
and underdeveloped minor characters, it's the details that will make your eyes pop, and the nearly three hour running time fly by.