Running Time:
1 hour, 40 minutes
Rating: R Restricted. Under 17 Requires Accompanying Adult.

Rating Explanation:
for strong bloody violence, and language.
Additional Info:
DVD Features: Creating the apocalypse - behind the physical effects; Humanity's last line of defense - the cast anc characters; From pixels to picture - a look at the visual effects.

CAST:
Paul Bettany ... Michael
Lucas Black ... Jeep Hanson
Tyrese Gibson ... Kyle Williams
Adrianne Palicki ... Charlie
Kevin Durand ... Gabriel
Jon Tenney ... Howard Anderson
Willa Holland ... Audrey Anderson
Kate Walsh ... Sandra Anderson
Dennis Quaid ... Bob Hanson
Charles S. Dutton ... Percy Walker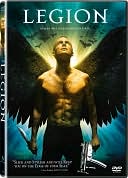 In this supernatural thriller, Charlie (Adrianne Palicki "Friday Night Lights") is an eight months pregnant waitress at a shady diner off the highway in out-of-the-way Paradise Falls. The soon-to-be father, is absent and a meek, mild-mannered Jeep Hanson (Lucas Black "Jarhead") seems to be filling the void, much to the chagrin of his father,
the diner owner
Bob (Dennis Quaid "Far From Heaven"), who is Charlie's boss and who is mad at the world because his wife left him. Among the others at the diner are Dr. Addison Montgomery-Shepherd (Kate Walsh "
Grey's Anatomy"
),
a passer-by
Kyle Williams (Tyrese Gibson "Rudy") who just happens to have a gun and the concerned diner partner (Charles S. Dutton "The Express").
Then suddenly an old woman tells Charlie her baby will burn.

That's when the Angel Michael (Paul Bettany "A Beautiful Mind") shows up to deliver long-winded soliloquies about the fall of man
and they all get involved in a fight with an ice cream truck driver.
Michael pulls off his wings
,

Kyle Williams

pulls out his gun and

and they turn the diner into a bunker, while waves of angels, demons, and plagues violently arrive, on the hunt for the soon due baby. Fearing the arrival of rival archangel Gabriel (Kevin Durand "3:10 to Yuma"), Michael pushes Charlie into labor, hoping whatever she gives birth to will be the key to stopping the obliteration of humanity.

Legion marks the directorial debut of Scott Stewart whose inexperience is evident throughout. The film is divided up into two parts: one half devoted to fancy effects depicting the evil angel onslaught, and the other set aside for the cast of unlikable characters to endlessly keep talking. It's all completely tiresome, teeming with idiotic dialogue bluntly performed by a limited cast visibly unable to decide whether this is high camp or gothic horror. It is all an absolute mess, complete with an overly-aggressive score, mediocre, uninspired acting and a subject matter that is a total waste of time.