Running Time:
1 hour, 51 minutes
Rating: R Restricted. Under 17 Requires Accompanying Adult.

Rating Explanation:
for strong bloody violence, grisly images, language and some sexuality/nudity.
Additional Info:
CAST:
Jude Law ... Remy
Forest Whitaker ... Jake
Alice Braga ... Beth
Liev Schreiber ... Frank
Carice van Houten ... Carol
Chandler Canterbury ... Peter
Joe Pingue ... Ray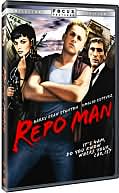 In the future humans have extended and improved their lives through highly sophisticated and expensive mechanical organs created by a company called "The Union". The dark side of these medical breakthroughs is that if you don't pay your bill, "The Union" sends its highly skilled repo men to take back its property, with no concern for your survival. Former soldier Remy (Jude Law "Cold Mountain") is one of the best organ repo men in the business. Remyís wife Carol (Carice van Houten "Black Book") wants Remy to switch over to sales, but his boss Frank (Liev Schreiber "Manchurian Candidate"), the ultra-sleazy branch head of Union and his partner Jake (Forest Whitaker "The Last King of Scotland"), arenít especially keen on that, and when he refuses to change his mind, Carol takes off with their son Peter (Chandler Canterbury "The Curious Case of Benjamin Button").

Then Remy is sent to reclaim the heart of an over-the-hill rock musician, and there's a defibrillator malfunction. Remy suffers cardiac arrest, and awakens to find that the company has implanted its best replacement heart in him. But, of course, heís now liable to pay for it. And a side effect of this procedure is that Remy's heart's no longer in his work. And when he can't make the payments, The Union sends its toughest enforcer, Remy's former partner Jake, to track him down.

Thereís so much wrong with Repo Men, directed by Miguel Sapochnik ("The Dreamer") that itís hard to point them all out. The acting is terrible, the script is ridiculous, and the over-the-top violence is hard to watch and that's all topped by a cynical, nasty conclusion that makes the whole thing even more disgusting.