Running Time:
2 hours, 4 minutes
Rating: PG-13 Parents Strongly Cautioned.

Rating Explanation:
for intense sequences of action and violence, and some sensuality.
Additional Info:
CAST:
Kristen Stewart ... Bella Swan
Robert Pattinson ... Edward
Bryce Dallas Howard ... Victoria
Taylor Lautner ... Jacob Black
Billy Burke ... Charlie Swan
Justin Chon ... Eric
Anna Kendrick ... Jessica
Michael Welch ... Mike
Christian Serratos ... Angela
Jackson Rathbone ... Jasper Hale
Ashley Greene ... Alice Cullen
Peter Facinelli ... Dr. Cullen
Elizabeth Reaser ... Esme Cullen
Kellan Lutz ... Emmett Cullen
Nikki Reed ... Rosalie Hale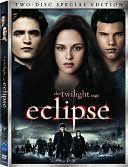 This 3rd film in the Twilight Series starts a little slowly with a reintroduction of its main characters, heroine Bella Swan (Kristen Stewart), more determined than ever to go vampire for her undead boyfriend - the gloomy dreamboat Edward Cullen (Robert Pattinson), an ancient being who still hasn't graduated high school; and Jacob Black (Taylor Lautner), a bare-chested Native American who shape-shifts into a wolf at a moment's notice.

But, things pick up rapidly following the introductions with the girl/vampire/werewolf triangle becoming increasingly intense when a crime wave hits Seattle, close to the bucolic Washington town that shelters so many supernatural creatures, without any of its citizens catching on apparently. A series of vicious killings and disappearances tip off the Cullen clan that a vampire is creating an army of newly turned vampires whose ravenous thirst makes them stronger and more deadly than "old" vampires.

The villainess here is red-headed Victoria (Bryce Dallas Howard), who is seeking revenge against the Cullens, particularly Edward, and she is also planning to destroy Bella. All of which causes Edward and Jacob to contemplate a temporary alliance to protect the girl they both love.

Director, David Slade ("30 Days of Night") quickly establishes a rapid yet unhurried pace and an unapologetic indulgence in this basic fantasy of every teenage girl - that two high school hunks are in love with her and willing to die for her, except, of course, one of them is already undead. With more action
and humor than either of its predecessors,
The Twilight Saga: Eclipse
should prove to be the most successful of this popular series.