Running Time:
1 hour, 51 minutes
Rating: PG Parental Guidance Suggested.

Rating Explanation:
for fantasy action violence, some mild rude humor and brief language.
Additional Info:
CAST:
Nicolas Cage ... Balthazar
Jay Baruchel ... Dave
Alfred Molina ... Horvath
Teresa Palmer ... Becky
Toby Kebbell ... Drake Stone
Omar Benson Miller ... Bennet
Monica Bellucci ... Veronica
Alice Krige ... Morgana
Jake Cherry ... Young Dave
James A. Stephens ... Merlin
Gregory Woo ... Sun-Lok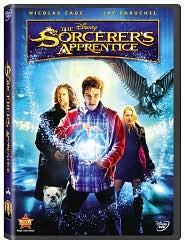 Inspired by the famous Mickey Mouse segment in Walt Disney's Fantasia, Dave Stutler (Jay Baruchel "She's Out of My League"), our young apprentice, tries to clean up his lab by using magical powers over his brooms, mops and pails. But the scene has none of the style and well-calibrated buildup of its well known inspiration. This live action version of The Sorcererís Apprentice is an unfunny, chaotic orgy of special effects, but all director Jon Turteltaub ("National Treasure") seems to have actually conjured is a chaotic mess of a movie.

It seems that way back in the eighth century, the great wizard Merlin (James A. Stephens "Sherlock Holmes") battled the evil Morgana (Alice Krige "Lonely Hearts") and lost when one of his three apprentices (Horvath Alfred Molina "An Education") betrayed him after he lost the beauteous Veronica (Monica Bellucci "Secret Agents"), to the noble Balthazar (Nicolas Cage "National Treasure").

Centuries later, the young Dave (Jake Cherry
"Night at the Museum: Battle of the Smithsonian"
) stumbles into Balthazar Blakeís magic shop where Balthazar recognizes the boy as the answer to the ancient Merlin's dream. But somehow this turns Dave into a laughing stock among his schoolmates, including Becky Barnes, the girl heís sweet on.

Now at
nineteen,
Dave
(Jay Baruchel)
is being threatened by Horvath, but amazingly, Balthazar shows up to protect him and teach him everything he needs to know. But sadly Dave proves to be a singularly inept student who's completely distracted because he's just reconnected with his old flame Becky (Teresa Palmer "Bedtime Stories").

Despite a number of big fight-and-chase sequences which include a gargoyle coming to life as a flying eagle, electric thunderbolts flying from wizards hands, mirrors drawing characters into reverse worlds and a Chinatown dragon becoming a fire-belching, building-climbing creature. thereís surprisingly little fun to be had in this souped-up version of the famous Disney eight minute masterpiece.