Running Time:
1 hour, 30 minutes
Rating: R Restricted. Under 17 Requires Accompanying Adult.

Additional Info:
DVD Features: Get Inside the Creative Process of this Action Spectacular with Behind-the-Scenes Featurettes; Filmmaker Commentary and Check Out a Sneak Peek of Resident Evil: Damnation.

CAST:
Milla Jovovich ... Alice
Ali Larter ... Claire Redfield
Kim Coates ... Bennett
Shawn Roberts ... Albert Wesker
Sergio Peris-Mencheta ... Angel Ortiz
Spencer Locke ... K-Mart
Boris Kodjoe ... Luther West
Wentworth Miller ... Chris Redfield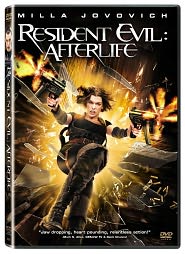 This fourth 'Resident Evil' movie, was shot in 3D but it's still just as slickly two-dimensional as its predecessors. Like a multi-levelled computer game, Resident Evil: Afterlife is just a string of self-contained sequences, starting with an attack on the Umbrella Corporation's HQ in Tokyo by the mutated warrior Alice
(
Milla Jovovich
)
and a bevy of Alice clones.

Stripped of her enhanced physical powers by the head of the Umbrella
Corporation
Albert Wesker (Shawn Roberts), Alice nevertheless escapes to Arcadia, a mythical Alaskan haven from the global zombie plague, and from there to the fire-ravaged ruins of Los Angeles. It is therefore a more human, vulnerable Alice who rescues her old friend Claire Redfield (Ali Larter) and hooks up with a ragtag band of survivors holed up in a zombie-besieged LA prison.

Less bleak than Russell Mulcahy's post-apocalyptic 'Extinction', Anderson's 'Afterlife' dangles the possibility of salvation. Otherwise, it's the same zombie hell, but with evolved flesh-eaters that now have extendable mouth parts and lashing tentacles. Technically, it's a considerable achievement, although Anderson's use of 3D is often more gimmicky than one you might have wished. Still, for die-hard fans,
Resident Evil: Afterlife
has the same scatter-shot appeal as Alice's shotgun full of coins, which she uses to explode the heads of the slavering zombies.