Running Time:
1 hour, 44 minutes
Rating: R Restricted. Under 17 Requires Accompanying Adult.

Rating Explanation:
for some sexuality and nudity.
Additional Info:
DVD Features: The secrets of Never Let Me Go; Director Mark Romanek's on-set photography; Tommy's art; National donor program & Hailsham campaign graphics.

CAST:
Carey Mulligan ... Kathy
Andrew Garfield ... Tommy
Keira Knightley ... Ruth
Charlotte Rampling ... Miss Emily
Sally Hawkins ... Miss Lucy
Ella Purnell ... Young Ruth
Charlie Rowe ... Young Tommy
Isobel Meikle-Small ... Young Kathy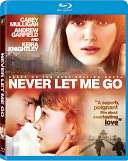 The film which is based on the novel by Kazuo Ishiguro, who also wrote Remains of the Day, begins at Hailsham, an idyllic British boarding school where children are taught to fear the outside world, to always obey instructions, and to take meticulous care of their bodies. They have no last names because they are not ordinary people. Gradually, we learn that they are scientific specimens, created in the laboratory and raised in order to provide their organs to desperately ill patients. They know that these donations will begin sometime in their mid-20s, and will continue as many as four times before they will die.

When the children leave Hailsham, they move on to a place called The Cottages, where they do little more than wistfully regret their cruel fate. Narrator Kathy (Carey Mulligan "An Education") is the silent suffering type, watching for many pained years as her flighty and glamorous best friend Ruth (Keira Knightly "Pride and Prejudice") takes up with the boy she has loved since she was a child, the painfully shy Tommy (Andrew Garfield " The Imaginarium of Doctor Parnassus"). But we all realize that Kathy is a much better match for Tommy.

Throughout the film, director Mark Romanek ("One Hour Photo") impressively sustains the melancholy mood which only manages to depress you more and more as you begin to contemplate the fates of these beautiful young people. You rarely see Kathy, Tommy and Ruth laugh together once they're adults, and though they are supposedly avoiding the truth about their fates, so many of their conversations revolve around it one way or another.

Despite the lush visuals and romantic Rachel Portman score Never Let Me Go is basically a haunting but tedious and depressing movie, which never lets you forget what will ultimately befall each of these ill-fated characters.