Running Time:
1 hour, 45 minutes
Rating: PG-13 Parents Strongly Cautioned.

Rating Explanation:
for thematic material involving a drug, violence including disturbing images, sexuality and language.
Additional Info:
Additional DVD Features: Closed Caption; Includes both the theatrical version and unrated extended cut of the film; A Man Without Limits; Taking It to the Limit: The making of Limitless ; Audio commentary with director Neil Burger; Alternate ending.

CAST:
Bradley Cooper ... Eddie Morra
Robert De Niro ... Carl Van Loon
Abbie Cornish ... Lindy
Andrew Howard ... Gennady
Anna Friel ... Melissa
Johnny Whitworth ... Vernon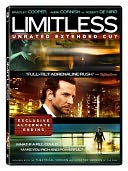 Eddie Morra (Bradley Cooper) a smarmy but charming writer is supposedly at work on a sci-fi novel, but he can't quite motivate himself to write a single word. His girlfriend Lindy (Abbie Cornish) gets tired of all his problems and breaks up with him. Then an old acquaintance gives him a pill that suddenly makes everything clear, giving him extraordinary levels of concentration and knowledge. He gets hold of a major supply of pills and sets out to satisfy his desire for money and power. Unfortunately, loan sharks and Wall Street goons are after him, as well as thugs involved with the drug's illegal manufacture. Worst of all, he becomes mixed up with Carl Van Loon (Robert De Niro), a financial wizard who may be more dangerous than any of them. Can Eddie ever get his life back? Does he want to?

Based on a novel by Alan Glynn, director Neil Burger ("The Illusionist") adds any number of very effective head-trip tricks, including a lighting scheme that visually illustrates the effects of the drug, as well as an awesome, dazzling sequence depicting an 18-hour blackout that Eddie experiences while on the drug.

Limitless despite a few dumb plot contrivances offers a vicarious lift. In fact it's escapist entertainment at its very best. Bradley Cooper gives an appealing performance, only to be matched by Robert De Niro in a snarky supporting role, plus there are a number of interesting performances by supporting actors smaller roles including Anna Friel as Eddie's ex-wife and Andrew Howard as a Russian goon. This is a relatively entertaining film made out of a strong, and all-too-rare combination of human emotions and sci-fi ideas.