Running Time:
1 hour, 40 minutes
Rating: R Restricted. Under 17 Requires Accompanying Adult.

Rating Explanation:
for language including sexual references, and some drug use.
Additional Info:
Added DVD Features: Bloopers; The Evolution of Paul; Simon's silly faces; Who the hell is Adam Shadowchild?; Feature commentary; Galleries.

CAST:
Simon Pegg (Graeme Willy)
Nick Frost (Clive Gollings)
Jason Bateman (Agent Zoil)
Kristen Wiig (Ruth)
Bill Hader (Haggard)
Blythe Danner (Tara)
Jeffrey Tambor (Adam Shadowchild)
Sigourney Weaver (the Big Guy)
David Koechner (Gus)
Seth Rogen (voice of Paul)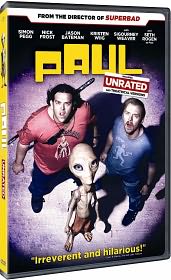 Visiting the United States for the first time, two British geeks - Graeme Willy (Simon Pegg) and Clive Gollings (Nick Frost) are on a tour of comic book conventions. They are also searching for alien landing sites they've read about. While on the road, they crash their Winnebago into a car and meet Paul (voiced by Seth Rogen), an escaped alien who's been hanging out at a top-secret military base for the past 60 years. If Paul doesn't meet his ship by a certain time U.S. agents are going kill him, and so the two nerds must do everything they can to help him. Along the way they "kidnap" Ruth Buggs (Kristen Wiig), who works at a trailer park, and any number of various rednecks, secret agents, and oddballs who join in the chase. The obvious question is - can Paul make it back to his mother ship in time?
Happily, Paul directed by Greg Mottola ("Superbad") has a genuine sweetness and relaxed quality and even though it doesn't quite live up to its potential, it eventually works. The shocking humor slowly smoothes itself out and meshes into a laid-back, entertaining story, and the sheer presence of its talented cast helps tremendously. Sigourney Weaver as a mysterious government figure adds some bite, as well as a bit of sci-fi history. Although Paul could have been a lot more fun, at least it's charming and enjoyable.