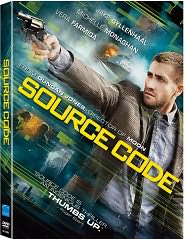 Finally here's a movie that makes you appreciate how good
Jake Gyllenhaal
really is. He even makes everyone else in this exciting sci-fi thriller seem better, and even in the scenes where he's playing off a computer screen, you'll still feel an emotional charge.
It all starts when Colter Stevens (
Jake Gyllenhaal
) suddenly wakes up on a train. The last thing he remembers is that he was flying a helicopter in the Middle East. What's even weirder is that the girl across the seat from him, Christina Warren (
Michelle Monaghan)
seems to know him and keeps calling him "Sean."
Without giving too much else away, it turns out that Stevens is on a mission: he has been sent back in time, more or less, to this train and into the body of "Sean." His job is to locate a bomb on board, and hopefully the man who planted it. In doing so, he can prevent a much bigger bombing. He has only eight minutes to do so. If he fails, he must start over again at the same point in time. When he returns to the present time, a mysterious military agent called Goodwin (Vera Farmiga) is in charge of him, and an even more mysterious scientist (Jeffrey Wright) lurks about behind her.
This is an adrenaline-fueled sci-fi thriller, and it's one that never runs out of ideas. But essentially, it's the cast that makes Source Code, directed by Duncan Jones ("Moon") worth seeing. PS. Jones is the son of David Bowie.