This unique Museum collects programming—radio shows, television programs, and commercial advertisements in both media—and makes that programming available to the general public.
SCREENINGS
NY Only: Robert Herridge: TV's Forgotten Auteur
Saturday, January 17, 2015
to Sunday, January 25, 2015
2:00 pm

FREE for Paley Center Members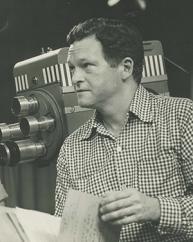 Robert Herridge (pictured right) was one of television's visionaries, creating programs in many genres, always with a signature style. Throughout the fifties and sixties the truly revolutionary Herridge produced landmark dramatic and musical specials for network television. But sadly his remarkable career is all but forgotten today. To inspire a fresh look at Herridge's legacy the Paley Center, the Anthology Films Archives, and the New York Public Library for the Performing Arts, along with guest curator John Sorensen, have combined forces to present a first-ever retrospective. The Paley Center spotlights Herridge's musical achievements in jazz, folk, and blues, which continue to haunt the imagination of those who originally viewed the shows, most notably Bob Dylan.
This is a rare opportunity to see some of the greatest performing arts on television of all time.