Admission/Tickets:

Free guided walking tours year round, rain or shine, except in extreme weather conditions (heavy rain, snow storms, 25 degrees or below, or 95 degrees or above).

Unless noted tours are approximately 1 to 1.1/2 hours. They are led by experienced, knowledgeable guides, who are volunteers in the Central Park Conservancy Walking Tour Program.

No reservations required.

Call 212-772-0210 for directions.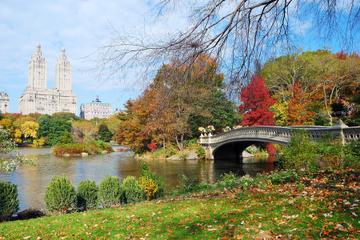 Take a guided Central Park walking tour with a licensed expert! Tours are offered in English, Spanish and Portuguese.
Experience the magic of Central Park and New York City during the holiday season!
Details: Your guide will take you on a wondrous journey that starts in Central Park and ends in Bryant Park. Some attractions include Grand Army Plaza, Saks Fifth Avenue Christmas Light Show (evening tour only), Bryant Park Skating Rink and Christmas Kiosks, Swarovski Snowflake, Tiffany's, Cartier and Fendi Buildings, St Patrick's Cathedral, Rockefeller Center, Radio City Music Hall, Bergdorf Goodman Christmas Windows, and 6th Avenue Highlights.