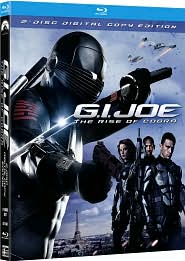 In the not too distant future, two US Army buddies Duke (Channing Tatum "Stop-Loss") and Ripcord (Marlon Wayans "Scary Movie") are transporting a deadly new weapon when they're attacked and then defended by two outrageously high-tech assault forces. They are rescued by mysterious strangers and recruited to join the elite G.I. Joe team, comprised of some of the best soldiers from around the world and led by General Hawk (Dennis Quaid "Far From Heaven") at a secret base in the desert. These top commandos are hunting Duke's ex, the Baroness (Sienna Miller "Alfie"), who has gone over to the dark side to help Scottish arms dealer McCullen (Christopher Eccleston "28 Days Later") and his mysterious Cobra organization in their nefarious plan for taking over the world.
But somehow G.I. Joe: The Rise of Cobra all comes together in a consistent tone, with a driving pace that propels us through each increasingly nutty but engrossing sequence loaded with pulse-shooting guns, super-strength suits and bullet-proof armor, plus swords, explosives, missiles and good old-fashioned cat fights in the sky, sea, mountains, deserts and cities. And a hyper-destructive chase through Paris which is hysterical in almost every sense of the word.
Director Stephen Sommers ("The Mummy") employs swooping cameras, spectacular special effects and frenetic editing making the whole thing an adrenaline-packed entertainment. Everything about this film is a fantasy, most of it is borrowed from the likes any number of recent blockbusters like Spider-man, Iron Man, James Bond and even Harry Potter. In this "near future", digital effects are a fact of everyday life.
All of this makes this easily the season's best guilty-pleasure entertainment. And don't be surprised that it sets up a sequel; in fact, there will probably be many more GI Joe's
in the future.