Running Time:
1 hour, 37 minutes
Rating: PG Parental Guidance Suggested.

Rating Explanation:
for sensuality and language.
Additional Info:
DVD Features: Never-Before-Seen Deleted Scenes.

CAST:
Amy Adams ... Anna
Matthew Goode ... Declan
Adam Scott ... Jeremy
John Lithgow ... Jack
Noel O'Donovan ... Seamus
Tony Rohr ... Frank
Pat Laffan ... Donal
Alan Devlin ... Joe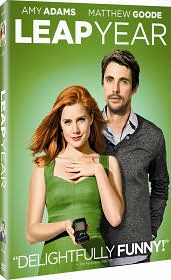 Anna (Amy Adams "Julie and Julia") is a Type-A personality who prides herself on getting things done. She works in Boston as an apartment "stager" who who pretties up homes and apartments for real estate agents to help them sell. When her cardiologist boyfriend of four years, Jeremy (Adam Scott "Step Brothers") fails to propose to her during the dinner where she is convinced that he will, she doesn't just sit back and silently pout. She decides to propose to him, using that old romantic Irish tradition that her father (John Lithgow "Kinsey") tells her about. Supposedly, every four years on leap day ( February 29th) in Ireland, it's tradition for women to propose marriage to men.

So she decides to follow Jeremy to Dublin, where he has gone for business. But, the path to getting there, is loaded with more obstacles than you can imagine. When her plane makes an unscheduled landing due to bad weather, she's forced to take a storm-swept ride with a sailor which leaves her stranded along the Irish coast. Then she agrees to pay small-town pub owner Declan (Matthew Goode "Match Point") to take her to her to Dublin, but that doesn't turn out to be as simple as it sounds. Frist there's a car accident, followed by stolen luggage, missed trains, a roll in the mud, and an awkward interlude where they attend a wedding reception and she throws up on his shoes, and suddenly her cardiologist boyfriend doesn't look so good anymore.

If predictability were the only problem with Leap Year, directed by Anand Tucker ("Shopgirl"), it wouldn't have been so offensive. But this is an unfunny and almost anti-romantic idea which doesn't seem to miss a single trick in the screenwriter's handbook of hand-me-down clichés. A good love story never gets old, but this antiquated, pre-feminist point-of-view belongs in a different century.
To order tickets: