Running Time:
1 Hour, 35 Minutes
Rating: R Restricted. Under 17 Requires Accompanying Adult.

Rating Explanation:
for language, drug use and sexual content
Additional Info:
Added DVD Features: Complete two and a half men scene featuring Ethan Tremblay; Additional scenes; Due Date action mash-up. Compilation of the physical comedy from the film; Due Date too many questions mash-up. What makes Ethan the most annoying guy with whom you could ever be stuck in a car? + Gag reel.

CAST:
Robert Downey Jr. ... Peter Highman
Zach Galifianakis ... Ethan Tremblay
Michelle Monaghan ... Sarah Highman
Jamie Foxx ... Darryl
Juliette Lewis ... Heidi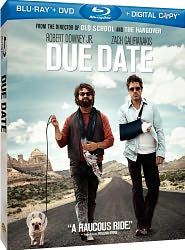 High-strung architect Peter Highman (Robert Downey Jr. "Iron Man"), is a fretful father-to-be, trying to get home from a business trip across the country, in time for the imminent birth of his first child. Thanks to an incident on an airplane caused by an idiotic wannabe actor Ethan Tremblay (Zack Galifianakis "The Hangover"), they are both thrown off the plane and banned from catching any other flight. Worse still is that Peterís wallet with all his credit cards is still on the plane with the rest of his baggage, so his only hope of getting from Atlanta to LA is by sharing a car with Ethan. Once he grudgingly settles in for the long ride from Georgia to California, Peter learns more than he really wants to know about his unwanted companion, beginning with Ethan's inspiring admission that, " 'Two and a Half Men' is the reason I wanted to be an actor." So begins a cross-country road trip with two thoroughly mismatched people, and plenty of trouble in the shape of Ethanís Ďmedicinalí marijuana, lack of sleep, car crashes and run-ins with the police.

After a pit-stop visit with Peter's old pal (Jamie Foxx "The Soloist") we begin to wonder if Peter actually is the father of his wife's about-to-be-born child. At one point there's even a turnoff that leads them over the border into Ciudad Juarez at night where Peter gets high when he lights up with all the car windows sealed shut. But the laughs come in abrupt bursts; they're not constant, convulsive or contagious. It doesn't begin to rival "Hangover" for inventiveness or hilarity., but the sharp comic instincts and contrasting styles of the stars, who never are offscreen, keep the film alive despite the setup's aggravations and familiarity. Thankfully, Robert Downey Jr. plays it more or less straight, with his exasperation at being driven to distraction by the morons he meets along the way, but Zack Galifianakis begins as dumb and inappropriate before it soon becomes clear that heís an irredeemable sociopath.

Due Date, directed by Todd Phillips ("The Hangover"), is at its best in the first half and a few antics on their pit-stops delivers a few chuckles, but as it progresses and the need for it to become more elaborate increases, it falters. There's little tension and the introduction of one or two other characters are pointless red herrings. In terms of laughs, itís not nearly on a par with The Hangover, which it's trying to be, but until the real sequel is released, it'll have to do.